"You know it used to be called Director's Cuts and now it's just called DVD..." - George Lucas

I think that above quote from the special two-day press event for the Episode 1 DVD summed it all up well.

Perhaps well overdue, when LucasFilm and Fox finally officially announced Star Wars Episode 1 - The Phantom Menace to be released on DVD - the DVD community was shocked to say the very least.

A small group of online media was invited to attend a special two-day DVD event at the famous Skywalker Ranch in California on September 6th and 7th 2001.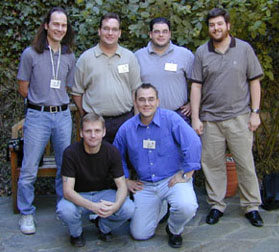 Just Some of Us DVD Website People at the Skywalker Ranch
(Top L-R: Guido from dvdreview.com, Jeff from dvdanswerman.com, Myself, Geoffrey from dvdtalk.com. Bottom L-R: Peter from dvdfile.com, Bill from thedigitalbits.com)

The event was wonderful to say the very least. Big thanks go out to LucasFilm for inviting us!

It was really nice to meet and greet with fellow online media as well as attending the event.

We have broken down this special report in a few different sections to make reading easier:

Section I - Various Phantom Menace Releases

Section II - Planning A Trip to Skywalker Ranch

Section III - Overview of Skywalker Ranch

Section IV - DVD Event Day 1

Section V - DVD Event Day 2

Section VI - Q&A Session Part 1 (Van Ling, DVD Producer)

Section VII - Q&A Session Part 2 (Rick McCallum, EP1 Producer)

Section VIII - Q&A Session Part 3 (Pablo Helman, ILM)

Section IX - Q&A Session Part 4 (Rick Dean, THX)

Section X - Q&A Session Part 5 (Jon Shenk, Documentarian)

Section XI - Q&A Session Part 6 (George Lucas, Director)

Section XII - Q&A Session Part 7 (George Lucas, Director cont.)

Section XIII - Our Review of the Star Wars Episode I DVD