13 CONVERSATIONS ABOUT ONE THING
Reviewed December 29th, 2002 by David Nusair
In the tradition of movies like Short Cuts and Magnolia comes 13 Conversations about One Thing, a thoroughly depressing movie that nonetheless manages to entertain. Though director Jill Sprecher isnít quite as visually ambitious as Robert Altman or Paul Thomas Anderson, she (and her co-writing sister, Karen) creates a world populated by original characters thatís almost always interesting to watch.

While the film never focuses on just one character, itís Alan Arkinís Gene that leaves the most indelible impact. Gene is a hard-working schlub whoís been toiling at an insurance company for years, doing a job he clearly hates. Heís a bitter guy that honestly believes the world is out to get him, and gets little enjoyment out of life. One night in a bar, he strikes up a conversation with Troy (Matthew McConaughey), a successful lawyer who attempts to convince Gene in the virtue of hard work (indeed, after saying that ďluck is the lazy manís excuse,Ē Gene points out that Troyís likely had nothing but good luck). Later that night, Troy drunkenly collides with Beatrice (Clea DuVall), a kind-hearted housekeeper whoís convinced people are inherently good. Also thrown into the mix is a physics professor named Walker (John Turturro), who begins to questions his values shortly after being mugged.

Thirteen Conversations about One Thing is a ponderous film with big ideas (the meaning of life seems to be a central concern among these characters), which alone makes the film worth a look. How many movies offer up frank discussions based on existentialism? Not many, and itís likely that the Sprecher sisters are aware of this fact. And though the film couldíve turned into a self-indulgent Bergman wannabe, the Sprechers keep their screenplay grounded in realism and propel the story forward with a plot thatís both involving and intriguing.

The filmís success is due in no small part to a strong ensemble of actors, with Arkinís amazing performance leading the way. Gene is certainly one of the most biting characters Arkin has played in his career, and his unrelenting negative worldview isnít the sort of trait one expects an actor of Arkinís stature to be playing. Gene takes joy in very little, and tends to lash out on anyone that expresses happiness (witness, in particular, the bitterness he shows towards a co-worker who loves life). The other actors are good, though none of them manage to make the impact that Arkin does. And even though Turturro turns in yet another fantastic performance, the character of Walker is independent from the rest of the film; while other characters move in and out of each otherís lives, Walker is relegated to one storyline. That was a little odd, but still, Turturroís presence is always appreciated.

13 Conversations about One Thing is a rarity among films; the downbeat nature of the script more closely parallels the lives of normal people. This doesnít necessarily mean itís always enjoyable to watch, but itís certainly an interesting change from unrealistically upbeat movies.

Audio: The movie is presented with a DD 5.1 soundtrack, and there are few instances of surround sound. This is a movie about dialogue, and while there are a couple of occasions in which the surrounds are used (an early car crash is a good example of this), the majority of the track remains firmly in the front. But it sounds quite clear, which is all you can ask.

Video: This anamorphically enhanced 1.85:1 transfer is (not surprisingly) quite impressive. The transfer remains mostly free of artifacts (both film and DVD related), and overall, the colors and shadows look fine.

Extras: The only major extra here is a commentary track with the Sprecher sisters, along with their editor Stephen Mirrione. Itís a good track, as they never seem to run out of things to say. And itís always interesting, with the trio offering up a lot of interesting tidbits (Arkin was in the middle of shooting his now-cancelled TV series while he was filming the movie, for example). Also included are trailers for this movie, Sunshine State, Last Orders, and My Wife is an Actress.

Conclusion: 13 Conversations about One Thing is an interesting, thought-provoking film in an era that doesnít produce nearly enough of them.
Please help support our site by buying this DVD title through this link. Thank you kindly.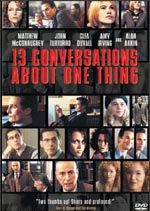 Purchase This DVD
Story / Content



Audio



Video



Extras