24 HOURS IN LONDON
Reviewed August 20th, 2002 by Patrick Mohan
Do you know what 24 Hours in London had in common with Guy Ritchie's Snatch? Well, it was a British film and that is about all. When I rented this movie, I had hoped that it would have even a small resemblance to some of the classic British flicks that effectively mix violence, humorous dialogue and cockney slang, but I have to admit that I was let down. Although some people say the film was done well for the small budget of a million dollars, but I really think that there was a lot of work left undone.

If the movie's storyline sounded like a winner, the only reason is because most of the movie's best moments and funniest characters are borrowed from other movies . Beginning with black market organ traders, this movie goes in many directions at once, but does so via slowly developing dialogue and many early deaths. Early on, there are a few original characters, but for many, I felt like I was watching look-a-likes from The Godfather or The Sopranos. Bubbles seemed to be a British version of Tony Soprano's nephew, Christopher. In the movie, Tony, a New York associate that does some work in London, was a Marlon Brando look-a-like that dressed similarly to Tony Soprano. Unfortunately, the movie's creators forgot one thing when they made this film. If you are from New York, you should have a New York accent, not a plain one that does not emphasize coffee or dog. Getting back to the plot, the film follows a witness that was able to escape death and now goes to the police for protection. With her in custody, the police encounter trouble from the man she's going give them the information about. There are a few small plot twists that I will leave out, but I can say that there is definitely a Tarantino-esque feel at times, but only for brief moments. The violence is definitely overdone and the end of the movie leaves you wanting something more, while also leaving you with a sour taste from such poor character development and storyline.

Although the movie itself was not that satisfying, the audio presentation was pretty good despite being presented in a Dolby Digital 2.0 track. The soundtrack was done really well and seemed to fit perfectly throughout the entire movie. While the dialogue itself was not that impressive, its presentation was there, just the content was missing.

It's a shame that this DVD was released only in a full-screen format because that's a cinematic nightmare. Whenever you see portions of actors or scenes cut out, there's already a stigma associated with the movie. I tried to get over the fact that only 2/3 of a character's head was on the screen, but I was just constantly disappointed with the lack of a better transfer. As far as color and image goes, the film looked great and offered rich colors. There are hints of distortion and stretching, but I am positive that it's from the transition to a full-screen format.

What is the greatest feature on most DVDs? If you said, "Extras," I would completely agree. Unfortunately, the makers of this DVD decided that those were not that important and included only two features on the DVD. The first feature was a trailer and the second was my personal favorite, Spanish subtitles.

It's hard watching a movie that constantly reminds you of scenes from other great movies, especially when the movie you are watching doesn't keep you interested. There were one or two scenes that really stood out in this movie, but I can honestly say that I was not glued to my television for the full 91 minutes of the movie. After finishing the movie, I was hoping for at least a commentary or a few deleted scenes, but I finished my viewing of this disc empty-handed and disappointed. I'd recommend finding a DVD that offers both a better storyline and better special features, so that you can say you got your money's worth.
Please help support our site by buying this DVD title through this link. Thank you kindly.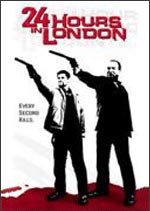 Purchase This DVD
Story / Content



Audio



Video



Extras