24 - SEASON ONE
Reviewed September 30th, 2002 by Dan Jones
After watching the first episode of 24 earlier in the year, I had been hoping for a full season release, as for continuity sake, the show kind of requires the viewing of each successive episode; a lot happens in an hour.

24 is an interesting show. The entire season covers one day; each episode is presented in real-time (with the exception of commercials of course). The obvious downfall with this kind of idea is the viewer's need to see each episode - without this, large chunks of the story can be lost. This differs from just about all other dramas that more easily allow people to watch or not watch with little to no concern.

In fact, this is what happened to me. I saw the first episode and was incredibly impressed. The problem was, was that I missed the next episode and instantly felt out of the loop. Never watching another episode again. I just always hoped that Fox would release the show on DVD... and here we are.

Kiefer Sutherland stars as Jack Bauer, a counter-terrorism agent whose goal over the next twenty-four hours is to stop an assassination attempt on Presidential candidate David Palmer. Of course, he has exactly twenty-four hours to either find the assassin, or foil the attempt. To add even more problems he must deal with deception from inside his own team, various murders, the kidnapping of his own daughter, etc., etc. Not too bad for one day (perhaps 24: Season 2 will be Jack sleeping for twenty-four hours straight on camera?).

After finally being able to sit down and take this show in the way the creators of 24 intended (from start to finish that is), I must say that I was quite impressed. With tons of twists and turns going on in such a short period of time (we actually get to keep track thanks to a stop watch on the screen occasionally), 24 never gets boring or lingers too long on a subject, it really doesn't have time to. Yes, 24 is probably not the most realistic TV drama ever, but it is without a doubt one of those most entertaining.

Obviously 24 didn't make the waves it was expected to make in the public's eye, but it was a seemingly untested way of doing things (real time, consecutive). Nevertheless, it did finish up with respectable ratings at season close, and therefore Fox has renewed it for another go around. Undoubtedly, this DVD release's goal is to improve awareness for the show in general, and more importantly excitement for season two. Let's take a closer look.

Fox has given the first season of 24 a six-disc treatment with four episodes each in Fox's nice gatefold design we've gotten so used to in the past. Oddly enough, no chapter stops have been included on the episodes.

Whereas Fox originally presented 24 to most in a 4:3 ratio (except on its digital channel; if you had it of course), on the DVD we get the 1.78:1 widescreen ratio the show was somewhat intended to be seen in, and for the most part looks excellent. The picture is sometimes grainy and digital compression artifacts do crop up ever so rarely, but, besides that, the picture is sharp and detailed with good color contrast and flesh tones.

Audio wise, I'd like to say we get a nice full-blown Dolby Digital 5.1 mix... but the Dolby 2.0 track is overall very solid. Dialogue clarity is good throughout and the score is mixed quite well; bass use is pretty low and when there not very potent due to the lack of a dedicated LFE.

There's not much in the way of extras, probably due to the fact that Fox wanted to get this out before Season 2 airs. We get a short (1 minute) introduction from Kiefer Sutherland and an alternate ending completely with commentary from Producer Joel Surnow.

Overall 24 is a great series. It proves that every so often someone in Hollywood is willing to risk millions to try out a new idea in making TV shows. The acting is great and the story is gripping; what more can you ask for? This complete season DVD release allows 24 to be seen the way it was intended: from start to finish with no gaps in between. We don't get a ton of extras, but the show itself makes this set more then worth the price of admission.

24: Season 1 is highly recommended.
Please help support our site by buying this DVD title through this link. Thank you kindly.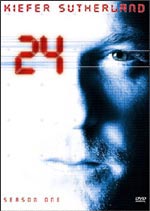 Purchase This DVD
Story / Content



Audio



Video



Extras