61*
Reviewed January 3rd, 2002 by David Nusair
Billy Crystal's fascination with baseball is no secret. From his lengthy monologue about his first experience at a ball game in City Slickers to a trip to Yankee stadium for Comic Relief, his love of the game has always been evident. It makes sense, then, that he'd direct a film based on the legendary struggle to over-take Babe Ruth's home-run record back in 1961.

That struggle was between two very different players, Mickey Mantle and Roger Maris. Mantle was widely loved and seemed to have no detractors, while Maris was pretty much the opposite. A newcomer to the Yankees, Maris was a hard-working family man – reluctant to step into the spotlight (a position Mantle had no problem assuming). The film follows that one season in '61 where the two were lucky enough to find themselves chasing Ruth's record at the same time. Though the press assumed there was a rivalry between the duo, they were actually good friends and even wound up living together for a short while.

61* feels authentic – from the stands of Yankee stadium to the announcers in the booth, the whole thing seems to be an accurate representation of what it must have been like during that season. This is no doubt due to Crystal's almost obsessive passion for baseball and his likely insistence that everything be just right. As Mantle and Maris, Thomas Jane and Barry Pepper fill the larger-than-life roles with an appropriate down-to-earth quality. These were two regular guys embroiled in an almost epic struggle – well, it was painted as epic by the media anyway.

Crystal's passion for the story does give the flick a definite sense of authenticity – but it also hinders him from being able to reign his sense of excess in. At a running time of around 130 minutes, the movie is at least a half hour too long. While the baseball scenes never really become tiresome, the various glimpses into the personal lives of these two players eventually does. Once the point's been made regarding the character of these two men (Mantle was a laid back, take-it-easy sort of guy – while Maris was a hard-working family man), there's not really too much more to say about them. Instead of presenting us with yet another incident involving Maris' hatred of the press, perhaps more sequences involving his love of baseball would have been more appropriate. But regardless of any superfluous character-building sequences, the movie is just overlong. 90 minutes or less would have been ideal.

But despite that, this is still a movie worth checking out – if only for the incredibly detailed presentation of the time period and two superb performances.

Audio: 61* is presented with a DD 5.1 soundtrack, and given that it was always intended for a straight-to-cable presentation, it's not surprising that it sounds as good as it does. The crowd sequences set at Yankee stadium are obviously the most active, with the applause seemingly emanating from all around you. This is as close to being there as you're likely to get without the aid of a souped-up DeLorean.

Video: This anamorphically enhanced 1.85:1 transfer is as crisp and clean as you'd expect from an HBO disc. Since the majority of the movie takes place outdoors, this disc presents the various bright and sunny days with a vibrancy that really feels alive. This is an excellent transfer.

Extras: First up is a commentary track with Billy Crystal. Oddly enough, he never introduces himself. Most of us know exactly what he sounds like, but what about cave dwellers? Nevertheless, this is a very good track, with Crystal explaining the ins and outs of recreating such a specific time period. His love for the subject often comes through, which makes this an especially enjoyable and touching listen. Next up is a 50 minute documentary on the making of the movie, with some occasional tidbits on the actual events. This is a fascinating, breezy doc that never feels too long. We learn about virtually every facet of the production, from the casting to the creation of Yankee stadium, circa 1961. There's even a clip from an old talk show in which Billy Crystal finally meets his idol, Mickey Mantle. Crystal seems genuinely thrilled in this clip (his hands are shaking and everything), so it really was cool to see the first time these two guys met (who went on to become great friends). Rounding out the disc are some statistics on Mantle and Maris – along with bios of the men who play them. Finally, there's a trailer.

Conclusion: If, like me, you know next to nothing about the race to beat the Babe's record, this is just the flick for you.
Please help support our site by buying this DVD title through this link. Thank you kindly.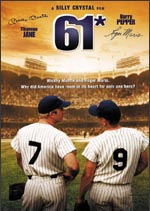 Purchase This DVD
Story / Content



Audio



Video



Extras