8MM
Reviewed October 17th, 1999 by Staff
In this dark film, Nicolas Cage plays Tom Welles, a "private investigator", waiting for a big break that will improve his professional status. He spends most of his time on routine, who's cheating on who cases, with little danger involved. Then a small plastic reel of film turns Welles' life upside down, sending him into the darkest parts of society's pornographic underworld.

8MM follows Welles as he obsessively pursues a bizarre trail of graphic and disturbing evidence, searching for the truth about the death of a young girl captured on film. Aided by a streetwise adult toy store clerk, Max (Joaquin Phoenix), Welles gets deeper and deeper into the disgusting filth of what some would call hell.

8MM is a story about some very dark ideas and practices. The film was designed to look as gruesome as the topics it covers, and definitely is. This is a good film, but it isn't for everyone.

The disc is two sided, so we get both anamorphic widescreen 2.35:1 and pan & scan standard 4:3 formats. The film is dark and many scenes are full of shadows. The DVD transfer reproduces the dark colors with perfection and shadow detail is excellent. The focus is very sharp, the print appears clean, and colors are very accurate. The look of the film could not have been done better.

The sound for 8MM is presented in Dolby Digital 5.1 and Dolby Surround 2.0. The Digital 5.1 mix is terrific. It's not the most aggressive mix you'll hear, but it's always very clean, smooth, natural, and it does an excellent job of inserting you in the action. The Dolby 2.0 sounded, well, like a 2.0 always does, nothing like 5.1!

The additional features on the disc are an audio commentary with director Joel Schumacher, a Making-of featurette, cast and crew biographies, production notes, and a theatrical trailer. The commentary track is pretty interesting and informative. Schumacher spends much of his time discussing the background for the world depicted in the movie and on his own experiences. The remaining extras aren't so compelling. The trailer and biographies are very basic, and not that interesting. The featurette was informative though and worth watching.

Overall, Columbia Tristar have done a fine job in making this DVD, and if you can stomach the content, it's definitely worth a rental.
Please help support our site by buying this DVD title through this link. Thank you kindly.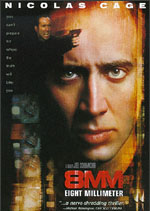 Purchase This DVD
Story / Content



Audio



Video



Extras