BEAUTIFUL MIND, A
Reviewed June 4th, 2002 by Dan Jones
"I find you very attractive. Your assertiveness tells me that you feel the same way about me. But ritual remains that we must do a series of platonic actions before we can have intercourse. But all I really want to do is have sex with you as soon as possible."

A Beautiful Mind is an exceptional film. I looked forward to this movie for quite sometime. I actually first heard about it via an Economics lecture when my Professor brought up Game Theory, and how the person who came up with this idea was schizophrenic. He told us about how a film was coming out about this man, John Nash, and told us all to go see the film once it hit the theaters, so there I was, opening night. He was a good professor, so I trusted his opinion.

A Beautiful Mind revolves around John Forbes Nash, Jr., played brilliantly by Russell Crowe, and his struggle to "Find a truly original idea. It is the only way I will ever distinguish myself. It is the only way I will ever matter." Quite a bit of pressure...enough to make someone go insane.

The Oscar buzz around this film was huge; mostly via mudslinging about the inaccuracies in the film when compared with Nash's real life. People upset that Howard did not touch on the fact that Nash might have been homosexual, or anti-Semitic, or whatever... my opinion on this is who cares? It is a movie, it cannot possibly cover everything or what might have been or what could have been; this is not a 9-hour epic. No one claimed this was a documentary.

I would rather not delve much into the plot of this one, because if you have not seen it, any solid plot outline is going to ruin it for you; there are many twists and turns throughout. What I will say is that the acting in the film is overall, tremendous. Crowe puts in a performance that easily should have won him the coveted Best Actor award; trouncing his performance last year in Gladiator (why this won him Best Actor is beyond me, great movie and all, but not the best acted movie ever created; in my opinion he won it for the Insider, but the Oscar team didn't feel they should nominate him for a film that wasn't a blockbuster, go figure. If you have not seen the Insider, do it, great film, even if the public did not like it). Jennifer Connelly also does a great job in the supporting role as Alicia, Nash's love interest. Ed Harris and Paul Bettany round out the cast nicely. I actually thought the film might not do well in the theaters, probably because most movies I love the public has no interest in. It was refreshing to see the film make sure huge numbers.

So, it has been a wait, but A Beautiful Mind is finally here on DVD in a jammed packed two disc set.

Oh, and before I forget, for the love of God do not buy the full screen version. It seems studios believe that just because a movie is a blockbuster it requires a full screen hack of it, completely ridiculous.

Video wise, A Beautiful Mind is presented in 1.85:1 anamorphic widescreen and is overall very good, as to be expected. Contrast is right on throughout as well as very nice darks and blacks. Flesh tones are very nice and overall the pictures is detailed and sharp. Some edge enhancement issues were seen here and there, but nothing annoying; no compression artifacts were seen. A very solid transfer to be sure.

On the audio side, A Beautiful Mind has been given an English and French 5.1 Dolby Digital mix, which is nice and detailed, if not completely front heavy. For the most part this is a film that relies mainly on dialogue, and this track lets it shine. Voices are consistent and clear throughout with great detail. The score is mixed quite well and is really the only element you will occasionally hear from your rears. A nice mix overall, even if I would have liked a few more surrounding cues here and there. English closed captions, as well as French and Spanish subtitles are also included.

Ah...so many extras on this two-disc set, where do I start, where do I being?

First off, we have two audio commentaries, one from Oscar winning director Ron Howard, the other from screenwriter Akiva Goldsman. The more interesting of the two is clearly Howards whom truly seems to love the film. We also get bits from some of the cast and occasionally Nash himself. Definitely worth a listen if you liked the film; great commentary.

Next up we have quite a plethora of deleted scenes, eighteen in all, running just over twenty-six minutes. All of the scenes are overall good, but as Howard explains in a brief intro to them all, were cut for time. None of these are too overly interesting, not really adding anything but not really requiring their cut if for nothing else then time. So, probably all are worth a watch.

Next up are a ton of featurettes, none running overly long. Lets whip through them really quick, explaining them if the title doesn't explain them enough: "A Beautiful Partnership: Ron Howard & Brian Grazer" gives us a bit of info about these two working together, they seem to like it. "Meeting John Nash" is just that, and is quite an interesting featurette, being he's a genius and all. "Accepting the Nobel Prize in Economics" gives us short blip of Nash accepting the Nobel Prize. "Casting Russell Crowe & Jennifer Connelly" is just that, with info from Ron Howard. "The Process of Age Progression" is an interesting feature on the costuming that went into making Crowe age in the film, realistically. "Development of the Screenplay" is again mostly self explanatory, talking about how what is originally written down on paper is not what always ends up. "Creation of the Special Effects" is a longer featurette, showing the process that went into the special effects for the film. Even if they were not overly large on scale, they looked excellent. "Scoring the Film" talks about just that, the score. Next, we get some footage from the Oscars, with the acceptance of the awards and some backstage talk.

Next up we have "Inside A Beautiful Mind" which is the longest of the featurettes, yet delves basically only into the plot, revealing much too much for those who are unlucky enough to see it before they see the movie (so don't watch it unless you've seen the movie). There are some interesting bits spread through this feature, but for the most part its plot.

Rounding it out we have Storyboard Comparisons, the theatrical trailer, production notes, cast and filmmakers info, a promo for the soundtrack, information on mental health organizations that deal with the types of problem Nash has, and a Now Playing and Sneak Peaks section, strictly promotional of course.

In your DVD-ROM, you will get a bit more in the way of extras; with a piece on the world premiere of the film and links to Universal's "Total Axxes" content.

A Beautiful Mind is probably my favorite movie of the year. Some people hated it, some people loved it, some people thought Lord of the Rings was better; either way you view it, if you are a fan of film this is a required viewing. With a great 2-disc DVD jammed with extras along with good video and audio this is an easy recommendation for purchase (just get the widescreen version). Highly Recommended.
Please help support our site by buying this DVD title through this link. Thank you kindly.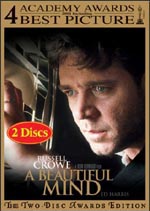 Purchase This DVD

Purchase Promo Poster

Story / Content



Audio



Video



Extras