ABOUT ADAM
Reviewed December 10th, 2001 by David Nusair
You know how when you're baking a soufflé, you can't talk or make any loud noises otherwise the entire thing will collapse? That's kind of what it feels like watching About Adam – the whole thing seems so delicate it's almost as though it's on the verge of disintegration.

Stuart Townsend stars as Adam, quite possibly the most charming man alive. What makes him so charming, you ask? Well, in the 97 minutes it takes for the movie to play out, he manages to sleep with three sisters and make their brother question his heterosexuality. Much of the film occurs over the same period of time, seen through the eyes of a different sister. The first woman to encounter Adam is played by Kate Hudson, sporting a fairly decent Irish accent. The two seem to be a perfect couple, and are soon engaged to be married. But then we discover that Adam has been seeing her older sister (played by Frances O'Connor) on the sly. Those two also seem quite happy, since she's always been a bookish sort. Soon after that, though, we discover that Adam's been making moves on the eldest sister, a not-so-happily married businesswoman. How will the whole thing play out? Well, let's put it this way – this isn't exactly Fatal Attraction.

About Adam desperately wants to be a charming little romantic comedy, but with no real plot to speak of (and without the aid of colorful supporting characters), the movie becomes tedious almost as soon as it starts. The entire thing depends on whether or not we care about what happens to Adam and this peculiar family. We don't, since we're never given a reason to. The only thing that really keeps the thing afloat are the charming performances. Newcomer Townsend is suitably charismatic as Adam (he'd better be, considering the Svengali-like effect he seems to have on this trio of sisters) while Hudson and O'Connor are equally good.

If it's a frothy romantic concoction you're looking for, I'd recommend the equally plotless (but far superior) The Very Thought of You. About Adam likely managed to bypass the straight-to-video route due to the rising superstardom of Hudson, but don't let that fool you – this is the sort of thing that might appeal to less discriminating 12-year-old girls that still fantasize about meeting the perfect man.

Audio: About Adam is presented with a 5.1 DD soundtrack and it's generally not put to good use. This is mostly a dialogue-driven story with little need for ambient sound effects, and the track reflects that. However, the ample dialogue is crisp and clear, and the background music remains that way – background.

Video: Presented anamorphically at a ratio of 1.85:1, this is a decent transfer. Filmed on a visibly low budget, the movie looks suitably vivid and colorful. The majority of the film takes place in either dimly lit bars or the bright outdoors, and the disc looks great in both situation. While the image never becomes quite as sharp (or just plain gorgeous) as some recent New Line or Warner Bros. transfers, this nevertheless suits the film just fine.

Extras: There's a short featurette (around 7 minutes) consisting of short sound bites about how great the movie is and how wonderful the production was to work on. Nothing terribly informative here. There's also three bonus trailers for St. Ives, Get Over It, and Blow Dry – but oddly enough, no trailer for About Adam!

Conclusion: About Adam seems like the sort of film that will strongly divide viewers – some will find it an enjoyable piece of fluff, while others will detest its seemingly free-form style and inability to become about something. Don't say you weren't warned.
Please help support our site by buying this DVD title through this link. Thank you kindly.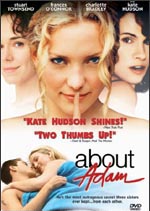 Purchase This DVD
Story / Content



Audio



Video



Extras