ADVENTURES OF ROCKY AND BULLWINKLE, THE
Reviewed March 4th, 2001 by Len D. Martin
Cast: Keith Scott (Voice of Bullwinkle J. Moose/Narrator), June Foray (Voice of Rocket J. Squirrel), Rene Russo (Natasha), Jason Alexander (Boris), Piper Perabo (FBI Agent Karen Sympathy), Randy Quaid (Cappy Von Trapment), Robert De Niro (Fearless Leader), Janeane Garofalo (Minnie Mogul), Carl Reiner (P.G. Biggershot), Jonathan Winters (Whoppa Chopper Pilot/Ohio Cop with Bullhorn/Jeb), John Goodmanm (Oklahoma Cop), Whoopi Goldberg (Judge Cameo), Kenan Thompson (Lewis), Kel Mitchell (Martin), James Rebhorn (President Signoff), Norman Lloyd (Wassamotta U. President).

Director: Des McAnuff

Story: Fearless Leader, Boris and Natasha are brought into the real world as live action characters intent on world domination. Their plan is to hypnotize everyone who watches TV with RBTV (Really Bad TV). The FBI gets wind of this plot and assigns one of their trainees, Karen Sympathy, to stop them. Karen knows the only way to stop them is with the help of their arch nemesis, Rocket J. Squirrel and Bullwinkle J. Moose (Rocky and Bullwinkle, to you). So she heads to California and thru the magic of television (some kind of way), brings them into the real world as animated characters. Now the fun begins, not only as a coast to coast road movie with lots of guest stars, but with the same enthusiasm as the old television series, with lots of in-jokes, dumb puns, and corny sight gags, as they try to stop the three villains from taking over the world.

Audio: Presented in English and French Dolby 5.1 Surround; DTS 5.1 Surround; and English captioned subtitles

Video: Presented in anamorphic widescreen aspect ratio of 1.85:1;enhanced for 16x9 televisions.

Extras: Spotlight on Location: The Making of The Adventures of Rocky and Bullwinkle; Theatrical Trailer; Production Notes; Cast and Filmmakers; DVD-ROM features including "Screen Friends", a voice activated software to navigate the computer - designed for adults as well as kids - Rocky, Bullwinkle, Boris, Natasha, and Fearless Leader respond to your commands.

Comments: If you remember the "Rocky and Bullwinkle" show from the 60's, then you won't be disappointed in this movie. It has everything the old series had -the narration, the corny jokes, the puns, and the sight gags. It's nice to hear June Foray once again as Rocky and Keith Scott does an excellent Bullwinkle and narrator. Jason Alexander and Rene Russo ham it up as Boris and Natasha and they are good. Even De Niro, who co-produced, even pokes fun at himself with his "Are you talking to Me?" Everyone seems to be enjoying themselves, even the guest stars. So for a fun evening, pick up a copy of this movie and have yourself a good time.
Please help support our site by buying this DVD title through this link. Thank you kindly.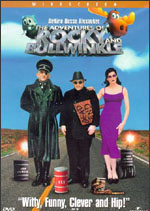 Purchase This DVD
Story / Content



Audio



Video



Extras