FEW GOOD MEN, A (SE)
Reviewed May 30th, 2001 by John Randall
"You can't handle the truth..."

I personally have to give praise to this movie. It is just highly entertaining from start to finish. Maybe the end is a bit too predictable, but the absolutely moving performances will blow you away.

And boy does the movie have star power! You'll see Jack Nicholson, Tom Cruise, Demi Moore, Kevin Bacon, Kiefer Sutherland, J.T. Walsh, Noah Wyle, Kevin Pollack, Cuba Gooding, Jr. and more.

The movie's plot is pretty simple. Private First Class William T. 'Willie' Santiago is dead and two Marines are charged with murder. Its up to Lieutenant Daniel Kaffee (Cruise) and his team to try and save the two Marines. The movie does have its funny moments and some very intense ones as well.

There are some really stellar performances here by Cruise and Nicholson and perhaps an unique look into the side of the military that no one really speaks about.

I have to say that I absolutely avoid watching this movie on TV (except channels like HBO, Showtime, etc). The only real reason this movie is rated R is for the language. The language really does play a role of its own in a film like this and hearing the movie get butchered by the censors is a real shame. Off the soap box now...

The video on the DVD is presented in 2.35:1 anamorphic widescreen and is pretty darn good! Good job by Columbia TriStar. Color and detail seem dead on.

The audio is presented Dolby Digital 5.1 and does pretty good job putting you inside the movie. There is a 2.0 track in English and a few in various other languages.

Extras include an audio commentary by Rob Reiner, a 30-minute documentary, a shorter featurette, the standard talent files and a few various trailers.

If you somehow have missed this movie - then get it. If you have seen it before and like it - then get it. Enough said.
Please help support our site by buying this DVD title through this link. Thank you kindly.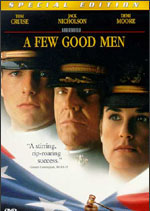 Purchase This DVD
Story / Content



Audio



Video



Extras