AFI: THE DIRECTORS - MICHAEL MANN
Reviewed April 6th, 2002 by Dan Jones
Michael Mann has been one of my favorite directors for quite some time now. I've always been able to easily sit through the three hour plus crime epic that is Heat; loved Manhunter and Last of the Mohicans, and was quite impressed by The Insider. Michael Mann is no doubt one of Hollywood's top 10 directors, yet he seems to be under-appreciated by the viewing public, with very few of his films being anywhere near blockbuster status. Perhaps most people cannot stomach the detail Mann puts into his films which sometimes corresponds into quite lengthy films; but to those people I say to just try to see past the runtime a film, and just let it happen.

When I saw that Michael Mann was getting his own DVD release, in the form of the AFI's "The Directors" series, I knew I had to check it out. What we have presented here easily gives a Michael Mann fan his money's worth.

Presented in a one hour feature, this program details Mann's career from start to present, with a great detail of commentary from Mann himself, as well as interviews with many of the people he has worked with throughout his various projects (such as James Belushi, Jon Voight, Diane Venora, Wes Studi, Dennis Farnia and William Peterson). As actual Michael Mann interviews / commentaries seem to be hard to come by in the DVD arena, it's nice to see that we can finally get some insight into the making of his films, and the career he has made for himself.

Most of what is talked about with Mann revolves around The Last of the Mohicans, Heat, The Insider, Thief and Manhunter. The presentation does not delve too much into Miami Vice, other then a couple minute gloss over. No information is really given about Ali, other then a mention. We find out about the essentially made for TV version of Heat entitled L.A. Takedown, that Mann ended up removing his name from after the disappointment of seeing what the studio was going to cut for acceptable television broadcast length. We are also told quite a bit from many of the people that have worked for Mann about his obsessive attention to detail (I enjoy details).

The Directors is presented in 1.33:1 full frame and overall looks very good. This is definitely better then TV broadcast quality and shouldn't detract at all from viewing. No compression artifacting, nor scratches or blemishes are noticeable through any of the program's footage. Some of the actual movie footage might not be up to par to their DVD releases, but this is to be expected. Overall, this is a very solid DVD transfer for a TV program.

Audio wise, we get a standard stereo track that does a fine job of presenting the heavy dialogue based program. Granted the movie clips don't sound anywhere near to their respected DVD releases, yet the track does a very good job with the actual interview material. You get what you expect in this area, just good clear stereo sound.

All in all, this program is quite an informative supplement to any Michael Mann fan and should fit nicely next to his films in your DVD collection. We don't get too much attention into the intricate details of his filming techniques or the like, but we do get some nice insight into his films, as well as some good interviews from those that have been a part of his films. For less then ten dollars this is a must buy for any Michael Mann fan. Highly Recommended.
Please help support our site by buying this DVD title through this link. Thank you kindly.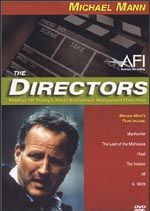 Purchase This DVD
Story / Content



Audio



Video



Extras