GENTLEMANíS GAME, A
Reviewed November 26th, 2002 by David Nusair
A Gentlemanís Game, much like Robert Redfordís The Legend of Bagger Vance, treats golf like itís some kind of spiritual sport. It works, though, probably due to the fact that when it comes right down to it, golf is a game played solo. Youíre alone with your thoughts, and itís entirely up to you whether or not youíre going to succeed. A Gentlemanís Game follows a teenager as he discovers the sport.

Mason Gamble stars as Timmy Price, an aimless teenager who finds himself working as a caddy one summer courtesy of his father, Mr. Price (Dylan Baker). Itís on the golf course that Timmy discovers that he has a natural talent for the game, a talent that draws the attention of the various high society types that play there. One such country club member, Charlie Logan (Philip Baker Hall), takes a keen interest in the boy, and suggests that he take lessons with Foster Pearse (Gary Sinise). Like Timmy, Foster was once a golf prodigy, but vanished after winning a crucial game. Timmy and his dad track down Foster, who initially doesnít want to have anything to do with the kid, but eventually comes around.

A Gentlemanís Game is entertaining in an old-school sort of way. The film seems to have this reverential respect of golf, which is initially somewhat off-putting. After all, when you get right down to it, it is just a game. But, like Bagger Vance, A Gentlemanís Game works diligently at convincing us that those who play the sport can have a transcendent experience. And the film, which has been written and directed by J. Mills Goodloe, employs a structure and pace that suits the laid back nature of the game. This is a great looking movie Ė itís been shot by Oscar winning cinematographer Conrad L. Hall Ė with slow pans across water-sprinkled lawns and vast golf courses. Itís almost enough to make a newbie want to try the game.

But as entertaining as the movie is, mostly due to some fine acting all around, Goodloeís script (based on a book by Tom Coyne) takes a somewhat simplistic and not-exactly-subtle approach to the material. Example: Thereís this running subplot featuring Timmyís dad and his reluctance to exert himself, out of fear of offending other members. Well, Mr. Price gets his chance to turn things around when Hallís character spends an afternoon drinking heavily, culminating in a racist tirade against the head caddy (played by NYPD Blueís Henry Simmons). With Timmy watching proudly, Mr. Price tells off Hall, and weíre supposed to assume that everything in his life is going to be all right from now on.

The film takes an equally simplistic approach in resolving the majority of the various plot threads, of which there are many. Generally, Iím complaining about the lack of plot; here, there are more than necessary. Goodloe throws in new subplots in virtually every scene, from the underappreciated caddies to Timmyís burgeoning relationship with a local girl, the film is stocked top-heavy with scenarios. In fact, the movieís got so many different stories to juggle, by the time the end rolls around, there isnít even enough time to wrap everything up. The fate of several characters is revealed in a quick voice over by Gamble just before the end credits. Now, for a movie that spends a lot of time getting the audience invested in the various characters, thatís probably not the best way to conclude things.

Still, the film is always entertaining and contains some great performances. And, more than likely, itíll change your perception of golf (unless you already like it, in which case itíll just cement your passion).

Audio: A Gentlemanís Game comes with a DD 2.0 soundtrack, and it does a decent job. Dialogue is always clear and crisp, and though thereís not much spatiality here, the soundtrack is effective for this type of movie.

Video: Though itís not indicated on the packaging, the movie comes equipped with an anamorphically enhanced 2.35:1 transfer, and itís quite impressive. The film is filled with stunning vistas and beautiful outdoor shots, and the transfer is free of artifacts.

Extras: First up is a commentary track with director Goodloe. Itís a good one, though Goodloe does suffer from that commentary malady of running out of things to say towards the end. Thereís also a short documentary on the making of the film which is essentially superfluous if youíve listened to the commentary, and a trailer.

Conclusion: A Gentlemanís Game is worth a look, especially if youíre a fan of any of the actors.
Please help support our site by buying this DVD title through this link. Thank you kindly.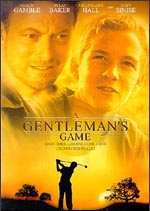 Purchase This DVD
Story / Content



Audio



Video



Extras