AIRHEADS
Reviewed November 1st, 2001 by Dan Jones
"I figure we demand some weird stuff so that later we can plead insanity."

At the bare minimum, Airheads is a movie about a band trying to get its big break by playing on a radio station... and the chaos that develops from it. At first I was skeptic of the movie, assuming what I was getting myself into was nothing more then a slapstick comedy with the same old clichés and the same old jokes. I was sadly mistaken. Directed by Michael Lehmann of Heathers fame, Airheads is a refreshing comedy that delivers the laughs and does it well.

Airheads delivers a very solid comedic cast. Our three 'Airheads' are played by Brendon Fraser as Chazz, Steve Buscemi as Rex, and Adam Sandler as Pip. These three current nobodies devise a plan to get their demo tape played on a local radio station... the only problem is, is that they cannot get into the station... so they decide to break in. Of course this does not go according to their plan, and eventually they end up taking hostages... with Uzi water guns; oh and their demo tape gets destroyed somewhere in the fray... comedy ensues from here; along with some good rock n' roll. We are also treated to a great supporting cast in Judd Nelson (Jimmie Wing), Michael McKean (Milo) and the late Chris Farley (Officer Wilson), along with cameos from Michael Richards (Doug Beech) of Seinfeld fame, and David Arquette (Carter).

DVD wise Twentieth Century Fox has done a fairly solid job with Airheads, essentially presenting the movie itself very well and keeping costs down by not adding too much else to it. It is not your Super Ultimate Edition or the like, but it does give you a strong transfer and strong sound, and a couple extras to round out the package.

The 1.85:1 anamorphic widescreen transfer in Airheads is really quite good. The picture is clean and sharp and colors are normally very strong all the way through. There are really no visual blemishes or artifacts throughout, and no real grain to speak of either. Overall, this is an extremely strong transfer.

As for audio, Airheads give us a Dolby Digital 4.0 track, meaning you get a discrete center, left and right, mono from the rears, and no discrete LFE channel, thus 4 discrete channels plus no LFE equals 4.0 for the math experts. Having said this, Airheads truly sounds great even though it is not a true 5.1 mix. We are also presented with the options of Dolby Digital Surround 2.0 in English and French, along with subtitles in English and Spanish.

Extras wise Airheads does not give us all that much. We get an amusing, relatively short, 'mocumentary' entitled "Airheads Special Report" that provides us with a quasi-behind the scenes look into the movie, presented in such a way that the actors are in character. As really the only true extra on the DVD this is definitely worth a watch. Also included our two music videos: "Born to Raise Hell" by Motorhead, Ice-T and Whitfield Crane and "Feed The Gods" by White Zombie. We also get the standard extras of the theatrical trailer (also anamorphic) and two TV spots for the movie. We also get the trailers from three other Brendon Fraser movies Bedazzled, Monkey Bone, and the Scout.

Overall, Airheads is a very funny movie, and this DVD does it justice. The movie itself makes the relatively cheap list price of the DVD a worthwhile buy. Very solid acting, a very funny script, and a plot that keeps you around makes this comedy worth a watch. Recommended.
Please help support our site by buying this DVD title through this link. Thank you kindly.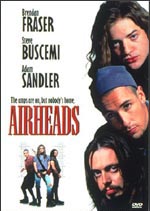 Purchase This DVD
Story / Content



Audio



Video



Extras