KNIGHT'S TALE, A
Reviewed October 21st, 2001 by John Randall
It seems what was started in the updated version of Romeo and Juliet is catching on (and not always working) where we see an aged tale with a soundtrack from modern day. It really worked in R&J and somewhat in Mulan Rouge, but I can only hope that not many films follow this trend – sometimes it just doesn't work. In this film, it works ok and is not that distracting.

"A Knight's Tale" is about a peasant who pretends to be a knight to compete in the games of his time – mainly the joust.

I have enjoyed watching some of Keith Ledger on the screen since "10 Things I Hate About You" and of course "The Patriot". This time around, Ledger plays William who is committed to being something more than his birthright as a peasant.

What follows is a mix of humor, romance and some excellent joust matches. The supporting cast is a good mix and overall does a good job as well.

As stated above, the soundtrack is a lot of modern day music from Queen, David Bowie, War, Bachman-Turner Overdrive and more.

Can William pretend is way to the top? Can he win the love of his dreams? Guess you'll have to watch and see.

Columbia TriStar has done it again with a great looking DVD. The 2.35:1 anamorphic widescreen transfer is near perfect. Everything from image detail to colors is brought to life very nicely.

The audio is in Dolby Digital 5.1 and also is quite nice. Dialogue, music and the special effects are all great with sound all around. A French 2.0 track is also provided.

The extras kick off with an audio commentary by writer/director Brian Helgeland and Paul Bettany who played Chaucer in the film. Also included is the HBO "First Look" documentary, a bunch of short making-of featurettes, a small grab bag of deleted scenes, worthless short filmographies of 6 people (all men no less), trailers for "A Knight's Tale" and "Final Fantasy".

Overall, this was an entertaining film – and worth a chance on a lazy Sunday afternoon. The disc is very good as expected from Columbia TriStar. I actually enjoyed the funny moments of the film – many coming from Paul Bettany.
Please help support our site by buying this DVD title through this link. Thank you kindly.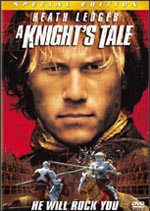 Purchase This DVD
Story / Content



Audio



Video



Extras