ALIAS: THE COMPLETE SECOND SEASON
Reviewed February 12th, 2004 by David Nusair
Alias is, hands down, one of the most engagingly complex and purely enjoyable shows on the air right now. Series creator J.J. Abrams seemingly delights in presenting the viewer with a myriad of plot twists, and requires that audiences pay attention in order to really appreciate the full scope of the show.

As entertaining as the first season was, it was in the second season that Alias really came into its own. A quick refresher course, for the uninitiated. Jennifer Garner stars as Sydney Bristow, a college student/undercover agent for SD-6 (an agency she believes is an elite off-shoot of the CIA). After telling her fiancé the truth about her double life, the head of SD-6 – Arvin Sloane (Ron Rifkin) – orders him killed. Eventually, with the help of her father Jack (Victor Garber), Sydney learns that SD-6 is actually part of a terrorist organization. She becomes a double agent for the CIA, passing along whatever she can to her handler, a man by the name of Michael Vaughn (Michael Vartan). Sloane's primary objective is to assemble the various pieces required to build a device laid out by a philosopher centuries ago, which could possible alter the balance of power in the world.

Season two essentially continues along the same lines for about half the season, until the infamous Superbowl episode. In it, the entire series changes from a story about a double agent into something entirely new. One has to admire Abrams' brazenness in taking the show into a different direction, not knowing whether or not fans would follow. But clearly he knew what he was doing, as Alias didn't lose its sense of adventure or complexity that's made it so engrossing.

Part of what makes the show so entertaining is the performances, which are uniformly far better than one might expect. Leading the cast is Garner, who is required on a week-to-week basis to run the gamut of emotions. Though she's amazing in the many fight sequences, she's just as compelling in quieter moments of dialogue. Garber, an actor who cut his teeth in musicals, is astoundingly effective as this tight-lipped yet fiercely loyal agent that would clearly do anything for Sydney. And Rifkin continues to assure that Sloane never becomes someone that we completely hate (he's more of a love-to-hate sort of figure).

Season two also marked the introduction of one of the series' most intriguing characters, Sydney's long-assumed-dead mother, Irina Derevko (played by Lena Olin). Sydney and Jack assumed she died in a car crash years ago, but as it turned out, she was actually an agent for the KGB and had been hired to spy on Jack's work for the CIA. As played by Olin, Irina also becomes someone that we're not able to hate as much as Sydney or Jack. She brings a level of complexity to the character that's unexpected, to say the least.

The second season of Alias is also notable in that it contains one of the most baffling cliffhangers to ever close out a season. Without getting into too much spoiler territory, let's just say Abrams created a conclusion that left fans guessing for months as to what actually happened and (more importantly) wondering where the show was going to go. That's what makes Alias so great; it's constantly evolving and changing, so the viewer can never become too complacent.

Audio: Alias: The Complete Second Season comes equipped with a booming Dolby Digital 5.1 soundtrack. This is a show that's packed with action, and this track does not disappoint. There's certainly a you-are-there quality to some of the more exciting sequences, giving the show a cinematic feel.

Video: Though most viewers originally saw all these episodes in full-frame, this DVD set presents them in the HD-ready aspect ratio of 1.78:1 (anamorphically enhanced, of course). As with the audio, there's a cinematic quality to the series that's boosted by its superior look on DVD. This is really a magnificent transfer, free of flaws and miles beyond its broadcast origins.

Extras: Buena Vista Home Entertainment has included a nice variety of extra features, starting with four commentary tracks (on the episodes Phase One, A Dark Turn, Second Double, and The Telling). Phase One features J.J. Abrams, Jennifer Garner, Jack Bender, Greg Grunberg, Michael Vartan and Victor Garber. This episode also features a nifty item – after talk of a stunt that went awry, we're actually shown footage of said stunt (presumably through seamless branching). The commentary itself is quite interesting, and we certainly learn a lot about what it took to make this pivotal episode. A Dark Turn features director Ken Olin, along with writers John Eisendrath, Jesse Alexander and Jeff Pinkner. This is a far more technical commentary, meaning it's not quite as much fun, but theirs is some good information to be gleaned here. Second Double features director Ken Olin, along with stars Bradley Cooper, Carl Lumbly and Terry O'Quinn. This isn't quite as dry as the second commentary track, but the participants unfortunately do have a tendency to talk over each other. Still, the easy-going nature of this track makes it a worthy one. Finally, The Telling features J.J. Abrams, Merrin Dungey, Ron Rifkin, Ken Olin and Kevin Weisman. Like the first commentary track, Abrams does a nice job of keeping control over the various people that are on the track. Lots of nifty tidbits to be had in this one.

Onto the other extras, the most notable is a 45-minute featurette on the making of The Telling (the last episode of the season). This is a fantastic behind-the-scenes look at what goes into creating an hour of television, from the script stage to the scoring stage. Next up is an 11-minute doc on the look of Alias, which is somewhat interesting – especially if you're into this sort of thing. Next are seven deleted scenes, with an introduction from J.J. Abrams. It might've been helpful had we been told where these scenes came in their respective episodes, but it's interesting nevertheless. Next is a four minute blooper reel that's cute and enjoyable. Also included are four radio interviews from KROQ (J.J. Abrams, Kevin Weisman, Victor Garber and Jennifer Garner), all of which are quite lengthy. Finally, the disc also comes with seven TV spots and a short look at the making of the Alias video game.

Conclusion: Alias is currently one of the most enjoyable shows on television. This set is perfect for fans, and even works for newbies (the first episode of the second season is clear enough that non-fans should be able to follow along and eventually catch up).
Please help support our site by buying this DVD title through this link. Thank you kindly.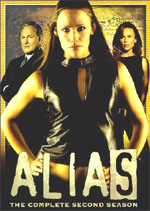 Purchase This DVD
Story / Content



Audio



Video



Extras