ALL THE PRETTY HORSES
Reviewed July 22nd, 2001 by David Nusair
All the Pretty Horses, Billy Bob Thornton's first film since Sling Blade, has been filmed with such care and precision, so it's really a shame the movie stinks.

Matt Damon stars as John, a young cowboy that, as the film opens, has just lost his ranch. He decides to head to Mexico with his best friend Lacey (played by Henry Thomas) in search of work, and along the way they run into a 16-year-old (Lucas Black). Turns out the kid is running from the law, and now John and Lacey are caught up in his problems. And as if that wasn't enough, John finds himself falling in love with a powerful Mexican's daughter (Penelope Cruz) - a relationship forbidden by everyone around them.

All the Pretty Horses looks beautiful, with its expansive Western vistas and slow-motion shots of horses running, but it's just so dull that all the amazing visuals in the world can't save it. And as the end of the movie approached, it became increasingly clear that there wasn't even going to be a point to all this. Thornton's apparently interested in showing us a character study, that just happens to be dressed as a Western. It doesn't work.

The actors are all fine, particularly E.T.'s Henry Thomas - continuing the Western theme he began with the far superior Legends of the Falls - but it's the obvious post-production cutting (the initial cut of the film was reportedly over three hours - you don't just remove an entire hour from a flick and hope that coherency remains) and flaccid storyline that kill All the Pretty Horses.

Audio: The 5.1 DD mix included is the polar opposite of the film's content - it's powerful, dramatic, and thundering. This is easily evident in even the opening sequence, which features a bunch of horses galloping by. You'll swear you're in the open country (well, maybe not, but it is still a great track). There's also a 2.0 Dolby surround track, but really, who needs it?

Video: All the Pretty Horses is presented in 2.35:1 anamorphic widescreen and, like the audio, it's near perfect. It's crisp and sharp, and delivers everything you'd want in a transfer. Columbia/TriStar have always excelled in presenting their movies in the most ideal way possible, and this is no exception.

Extras: Given that Billy Bob Thornton's first cut for All the Pretty Horses was over 3 hours long, some deleted scenes would certainly have been warranted (and even expected, by fans of the film). But alas, there isn't a deleted scene to be found. In fact, the only extras are scant filmographies (www.imdb.com covers the same ground, but with way more detail) and four trailers (All the Pretty Horses, Dogma, All About My Mother, and Legends of the Fall).

Conclusion: All the Pretty Horses is a dull, stilted movie but if you're a fan, you couldn't ask for a better presentation.
Please help support our site by buying this DVD title through this link. Thank you kindly.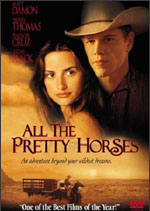 Purchase This DVD
Story / Content



Audio



Video



Extras