AMADEUS (DIRECTOR'S CUT)
Reviewed September 29th, 2002 by Brian White
There it was, in all its glory. It was an Amadeus special edition laser disc set. You know, the kind with the fancy encoding to make it look better, but spread it over about four discs. It also had a commentary track by director Milos Forman and it came with a $400 price tag. I dreamt of a day when I could easily afford to walk into a store and scoop up Amadeus in as fancy a state as that. Well God must have a sense of humor, because I picked up a better copy of Amadeus with a commentary by Forman for under $25! Warner Bros has released a Director's cut of the film, with some of the trimmings. While this is a two-disc set, it is not really a special edition, as extras are sparse.

Amadeus was one of the first DVDs released back in 1997. It had a decent anamorphic transfer, and a Dolby Digital 5.1 track. There was also an isolated score, which is pretty cool. Here's the problem: it was a flipper. Yes, you could relive all of the laser disc magic by getting up half way through the movie and flipping it over. It was always a tempting purchase, but the flipping thing (and the predictable re-issue) was always in the way.

Like you need to be told, Amadeus is a brilliant film. It won the Oscar in 1984 for best picture. F. Murray Abraham won the Academy Award for best lead actor, Forman won for best director, and Peter Shaffer won for the screenplay. This is a most beautiful, and skillfully acted, shot and presented movie. Amadeus is an AFI top 100 flick, and there is little more that I can tell you to convince you of its greatness.

Amadeus is not your ordinary movie about a composer. Adapted from the successful play by Peter Shaffer, Amadeus was turned into a movie after Forman saw the show in London. Forman and Shaffer hammered out a screenplay from the play, and went off to Czechoslovakia to film the whole thing. So what makes it so great? You don't have to deal with Mozart's life story. Instead, you see Mozart through the lens of the jealousy of a rival composer, Antonio Salieri. It is a most brilliant narrative device, which works very well.

This DVD is a director's cut. This version of the film was released theatrically earlier in the year, and now makes its way to video. There are twenty minutes of extra footage. What you get is an extended scene here, a new scene there. All in all, it's more Amadeus for the buck, which is a very good thing.

The video on the DVD is really surprising. Though a little grainy, the picture looks more recent than you'd expect. I was prepared for a soft picture, from eighties filmmaking, and from old film stock. Instead, you get a transfer that makes the movie look like it came out last year. It is not the best transfer of all time, but it looks far too good for its age. And the new parts, resurrected from "original film elements" look as good as the rest of the film. Foreman made a timeless looking film, and the great transfer adds to this timelessness. The film is indeed 2.35:1 anamorphic widescreen in case you are wondering.

The audio is quite beautiful in Dolby Digital 5.1 (a 5.1 French and 2.0 English track is also provided). The Mozart music that accompanies the film, and is basically a third main character, according to Shaffer, is mixed throughout the Dolby Digital 5.1 mix. It is lush, and adds a lot to the experience.

For extras, you get quality over quantity. There is a feature length commentary from Foreman and Peter Shaffer. On disc two, you have the theatrical trailer and a documentary. Now that doesn't sound like a lot (where is the "rock" video that was on MTV in '84, showing clips of KISS and the Beatles rocking to Mozart, and interspersed with clips from the film?), but the documentary is very good. You get a glimpse of Mick Jaggar's screen test, though his face is blurred out, and there is a surprising amount of footage from the making of the picture. If you are the slightest bit interested in film production, you'll love this documentary. Also fascinating is the fact that a big western picture was shot behind the Iron Curtain by a defector. Amazing. Also, the trailer is included. We do not get the isolated score in 5.1 as before, but if it was the isolated score or the commentary, I'd pick the commentary.

This DVD presentation is highly recommended.
Please help support our site by buying this DVD title through this link. Thank you kindly.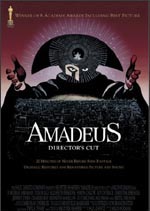 Purchase This DVD
Story / Content



Audio



Video



Extras