AMERICAN BEAUTY
Reviewed September 24th, 2000 by Tonya Cooner
Sam Mendes (usually a play director) directs American Beauty, a sometimes-chilling drama about obsession, a mid-life crisis that goes terribly awry, and the dysfunctional suburbanites that get caught up in it all.

Lester Burnham (Kevin Spacey) is the central character; a copywriter who abhors each new day, knowing it will bring the same temporal events that every other day has held. A series of repeating sexual fantasies seem to be all that holds him on this side of sanity. His wife, (Annette Bening), is a real estate agent who's verging on her own brand of a breakdown, and between them, a daughter, Jane (Thora Birch). Jane is well into the rebellious stage of her teen-age life, taking every advantage to deliver barbed sarcasm to her parents and seeking the ultimate revenge.

After his fantasies begin, Lester has a strange awakening, one that leads him to blackmail his boss and then quit his job to end up flipping burgers at the local drive in. At the same time, he's blowing the cash on cars, dope (from the strange kid next door), and weight lifting equipment. He'll spend his time working out in the garage, because the real-life object of his fantasies appreciates a solid body.

Meanwhile, his daughter has hooked up with the strange dope-dealing kid next door, Ricky (Wes Bentley). Risky is new to the neighborhood, living with his ex-Marine father (Chris Cooper) and is proficient in voyeurism, with a library of secretly filmed tapes. Jane and Ricky's relationship develops as the weird tangle of events unfolds around them. Lester's obsession grows, while his wife makes her life bearable in the company of a business associate.

This movie has some great performances by the entire cast (especially Kevin Spacey). Also in the film is Mena Suvari (from American Pie) playing the object of Lester's lust and don't forget the great Quantum Leap man himself, Scott Bakula, as a gay man.

The climatic end of the film is hinted at in the first lines of the film. The rest of the film documents the situations leading up to that moment, letting us in on sometimes-vague reasoning. The film can be summarized as a shocking peek at suburban hell, the strenuous effort to appear normal, and the real life underneath. However, there really is beauty everywhere around us.

DreamWorks pulled no punches with this great DVD release.

The video is presented in 2.35:1 anamorphic widescreen and is wonderful! Colors and black levels are extremely sharp on this one. With all the red colors throughout the movie, you might just be surprised how great they come alive.

The audio is presented in both Dolby Digital 5.1 and DTS 5.1. Both sound great! Most of the movie is pure dialogue, but the score is wonderfully different and sounds perfect on this release. Not too many scenes with the LFE or surrounds kicking, but that was how the movie was made.

Extras on the disc include: a nice behind the scenes featurette with interviews called "American Beauty: Look Closer", commentary with the director and writer, a storyboard presentation with commentary, cast and crew bios, two trailers, production notes and some DVD-Rom extras as well.

If you didn't know by now, this little movie won a total of five Academy Awards – did it deserve them? That my friend is up to you. The film runs just over two hours and is rated R for language, situations, nudity and drug use.
Please help support our site by buying this DVD title through this link. Thank you kindly.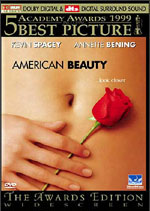 Purchase This DVD
Story / Content



Audio



Video



Extras