AMERICAN PIE (UNRATED VERSION)
Reviewed December 7th, 1999 by Staff
Universal is actually releasing two version of this movie. One is the theatrical version that lots of movie watchers got to see. The other version has 5 scenes that were re-edited.

The story is simple: four high school friends make a pact: since they are all virgins, that they will all lose their virginity the night of prom. Will they make it? The story centers on the guys (Jim, Kevin, Finch, and "Oz") – all of different personalities and how they deal with women. Jim would be considered the main character of sorts.

The cast is made up of mostly young adults and mostly no-names. Eugene Levy does star in the movie and has some funny moments playing Jim's father. Jason Biggs who also does a fine job plays Jim.

This movie is not for everyone – but it does have some very funny moments, and the new unrated version is actually better in at least one way than the original.

The five changed scenes include: More of the "stuff" in the beer sequence, a completely redone "pie" sequence which is much funnier than the original, two scenes where we see more of "the book" and we get to see a bit longer sequence of Nadia pleasuring herself.

The video is presented in 1.85:1 anamorphic widescreen and is very well done. Colors, sharpness and black levels all seem dead on and there does not seem to be any compression problems.

The audio is presented in 5.1 English and a French track in Dolby Surround. Dialogue and music also seem dead on.

Once again, Universal gives us the extras that they are known for: plenty of them. Besides this being the unrated version (which is an extra all by itself), there is a feature commentary, a short reel of outtakes, a music video, quotes, production notes, a trailer and more.

This movie is trip. If you never saw it – rent it. If you love it – buy it. The movie runs 1 hour and 36 minutes and is not rated (R rated version sold separately).
Please help support our site by buying this DVD title through this link. Thank you kindly.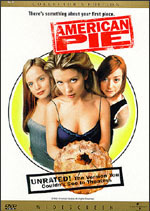 Purchase This DVD
Story / Content



Audio



Video



Extras