ANGEL EYES
Reviewed November 30th, 2001 by David Nusair
Starring Jennifer Lopez and Jim Caviezel, Angel Eyes is a romance about two lost souls. Caviezel is lost because he survived a car crash that killed his wife and son. Lopez is lost because her father has refused to speak to her ever since she turned him in for hitting her mother. One fateful day, they meet after Caviezel saves Lopez from eating a bullet. The two begin a strange and seemingly cathartic relationship, but Caviezel isn't going to let Lopez in on his past without some major prodding.

The marketing campaign behind Angel Eyes was determined to trick audiences into believing the film is some sort of cross between The Sixth Sense and Ghost. I suppose promoting the film for what is actually is - two hurt people that reluctantly find love with each other - is not a splashy enough angle upon which to hang a multi-million dollar advertising campaign.

What Angel Eyes does have going for it, then, are two great lead performances. Lopez, who is increasingly proving herself to be more than just MTV eye-candy, is perfect as the hard-boiled cop weary of letting her guard down. But Caviezel steals every scene he's in as the mysterious Catch. Just as he proved in the brilliant Frequency, this is an actor that, even when playing someone as enigmatic as Catch, is still the sort of guy you want to help and just plain old root for. He's the emotional core of Angel Eyes, and Caviezel is more than up to the challenge.

What's not so good about Angel Eyes is the pacing. The movie is slower than '79 Dodge Dart that ran out of gas 20 minutes ago. Quite simply, this is a story that easily could have been told in about 45 minutes (just the amount of time a one-hour drama takes, without commercials). Had this been a stand-alone episode of some anthology series on Showtime or HBO, it would've worked a lot better. But as it is, most scenes feel padded and some subplots were seemingly tacked on (the stuff with Lopez's abusive brother-in-law was particularly useless).

But the commanding performances by the two leads more than make up for the excessively overlong running time. And sometimes, a serious, adults-only sort of flick is a refreshing change from all those movies starring actors from the WB.

Audio: Angel Eyes is presented with a DD 5.1 soundtrack and for the most part, itís not put to much good use. This is primarily a dialogue-driven flick, with the occasional action sequence. The whole thing sounds great, though, so itís pretty hard to complain. Just donít expect a Driven-esque demo disc.

Video: Given that this is a Warner disc, itís almost redundant reviewing the picture quality. This anamorphic 1.85:1 transfer is virtually flawless, with nary a fleck of dust or DVD related artifact to be seen.

Extras: Angel Eyes is lacking in the extras department, but you do get a Luis Mandoki commentary. Mandoki proves to be a fairly interesting guy, letting us in on everything from the filming to the casting process. He seems happy with the way the movie turned out, and his enthusiasm is refreshing. Thereís also some cast/crew filmographies, but no trailer oddly enough.

Conclusion: Angel Eyes is a melodramatic but fairly entertaining little movie, worthwhile simply for the captivating performance by Jim Caviezel.
Please help support our site by buying this DVD title through this link. Thank you kindly.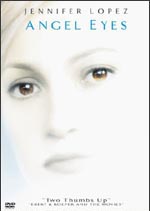 Purchase This DVD
Story / Content



Audio



Video



Extras