AN IDEAL HUSBAND
Reviewed October 2nd, 2000 by Brian White
Oscar Wilde wrote the best "well-made plays." The nineteenth century dramatic genre is best described as sitcoms for and about the wealthy. Many plays from this period were frivolous, but structured like clockwork. Wilde (who is portrayed briefly in the film)'s plays are the only pure well-made plays that we remember today. His wit and style were peerless. Despite the craftwork, even the best well-made plays were quickly forgotten upon leaving the theater.

Director Oliver Parker has adapted the Wilde play into a motion picture that is beautiful to look at, but quite forgettable. This is quite appropriate, given the genre. Wilde's wit is present, mostly in the inspired lines spouted by Rupert Everett, but underemployed. The structure of the farce is intact, if a little strained.

The film boasts a fantastic cast: Cate Blanchette, Minie Driver, Julianne Moore, and Jeremy Northam. As one would expect from a mostly British cast, the performances are excellent.

Perhaps the most striking aspect of this film is its look. So many times England in the Victorian age is portrayed as nothing more than rain and starving street urchins. Here, we see turn of the century London through Wilde's eyes. Everything is sunny and perfect. Everyone is rich, and politics only serve the farce (in a rather non-political way). Any edge has been ground smooth. Lush interiors, exteriors and costumes decorate the screen.

The DVD presents this beautiful vision in quite a striking fashion. The 1.85:1, anamorphic transfer shines. The many colors and textures are very well represented on this disc.

The 5.1 mix is somewhat understated, but in keeping with the film. The mix is adequate. There is certainly no problem understanding the dialogue. Music is mixed in nicely.

For extras, there is a making-of featurette and the trailer.
Please help support our site by buying this DVD title through this link. Thank you kindly.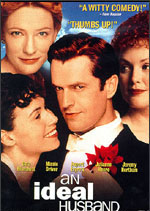 Purchase This DVD
Story / Content



Audio



Video



Extras