ANNIE HALL
Reviewed August 5th, 2001 by David Nusair
Even in a career that spans more than three decades, Annie Hall remains Woody Allen's most personal and introspective film.

Allen stars as Alvy Singer, but he may as well be playing himself. The film chronicles Singer's tumultuous relationship with a woman named Annie Hall (Diane Keaton). The film shifts from past to present without explanation, yet it works. The film also allows Allen as Singer the chance to interact with memories, but this too works. Annie Hall is pretty much the opposite of a traditional Hollywood narrative.

It's incredibly entertaining, though, and this is mostly due to Allen's script (which he co-wrote, surprisingly enough). The jokes come fast and furious (the funniest being a pompous professor's encounter with Marshall McLuhan) and the relationship between Alvy and Annie is genuinely compelling (so much so that, even though we find out right at the beginning that their relationship is doomed, we're still hoping they'll find a way to make it work).

Annie Hall may not be the most coherent of films, but it is certainly Allen's best.

Audio: Annie Hall is presented with a 2.0 channel Dolby surround track, and to be perfectly honest, it's not all that great. The majority of the film is, not surprisingly, dialogue but it doesn't sound as crisp and clear as you might expect. It comes off as muddled and muffled most of the time, and just flat the rest of the time. This is certainly a release that begs for a remastered soundtrack.

Video: The video transfer is equally weak. Presented non-anamorphically at a ratio of 1.85:1, this transfer is riddled with film artifacts (the most prominent being those two little black dots that appear to indicate the end of a reel). Besides that, though, this is an acceptable transfer, free of DVD-related artifacting. On the opposite side, there is also a full-frame transfer.

Extras: There's a letterboxed trailer and that's it.

Conclusion: This is a movie that deserves a better presentation, but as it is, this is probably the most ideal way to see Annie Hall.
Please help support our site by buying this DVD title through this link. Thank you kindly.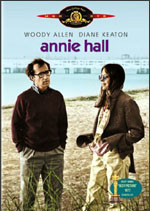 Purchase This DVD
Story / Content



Audio



Video



Extras