ANYWHERE BUT HERE
Reviewed December 10th, 2001 by David Nusair
As far as aimless chick flicks go, Anywhere But Here ain't bad.

Susan Sarandon and Natalie Portman star as mother and daughter, and as the movie opens, they've just left their mid-western home and are heading to (Sarandon hopes) prosperous California. Once they arrive, the remainder of the film consists of little vignettes detailing their various misadventures in and around town (Sarandon hooks up with a two-timing cad, Portman's best friend dies, etc).

Anywhere But Here is one of those well-intentioned movies that's impeccably produced – replete with Oscar-calibre performances – but there's no spark. Stuff happens randomly – like life, I suppose – but the thing never adds up to a cohesive whole. Without any sort of a plot to speak of, it's amazing the movie winds up being as entertaining (albeit in an indifferent, harmless timekilling sort of way) as it does.

A lot of the credit has to go to Sarandon and Portman – each of whom creates a fully realized and compelling character. It goes without saying that Sarandon would be good, but the real surprise here is Portman. Known best for her role in The Phantom Menace (as well as the upcoming installments), Portman's oeuvre up to now has consisted mostly of smaller parts requiring little from her, acting wise. But here, she's able to run the gamut of emotions and – tougher yet – is required to act alongside a heavyweight like Sarandon. And she does so without trouble.

But as good as they are, even they cannot keep this decidedly lightweight story afloat. Had the movie been around 80-minutes, perhaps it would've been okay. But at a running time of close to 2-hours, it's a case of not-enough-to-do-in-too-much-time. It's worth checking out for the two actresses, though. Just not much else.

Audio: This DD 5.0 soundtrack is about as harmless as the movie itself. The rear speakers only come alive during the songs and remain dormant throughout the flick. But the ample dialogue is clear, so what else can you ask for?

Video: This 2.35:1 anamorphically enhanced widescreen transfer is quite good, especially considering that the majority of the flick takes place outdoors. Also, this is a very colorful movie, with Sarandon's various outfits pretty much covering the entire spectrum. And the DVD handles them all with ease. A nice transfer.

Extras: You get an incredibly fluffy five-minute featurette that basically consists of interviews with cast and crew talking about how wonderful it was to work on this movie. This is essentially useless. You also get a trailer.

Conclusion: Anywhere But Here is harmless enough, and will likely appeal to those who prefer their entertainment toothless.
Please help support our site by buying this DVD title through this link. Thank you kindly.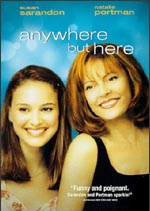 Purchase This DVD
Story / Content



Audio



Video



Extras