AMERICAN PIE 2 – WIDESCREEN (UNRATED)
Reviewed January 14th, 2002 by Dan Jones
"This one time... at band camp..."

American Pie. Here is a movie that everyone had to assume would get the sequel treatment. Here is a movie that went in with a small budget of around eleven million, and walked out of the theaters topping out at well over 100 million... truly successful in any studio's eyes. Moreover, besides the money it made, the movie was actually amusing. Unlike other sequels, I did not fear the second coming of American Pie and I was actually able to leave the theaters fairly happy with what I had seen.

American Pie 2 gives us the same cast of characters as the first, but brings their lives ahead one year, putting them on their summer vacation after freshman year in college. We get a number of different stories in this sequel; from Jim's (Jason Biggs) apprehension towards the arrival of Nadia (Shannon Elizabeth) in which he calls on Michelle (Alyson Hannigan) for "assistance", to Kevin (Thomas Ian Nicholas) and Vicky's (Tara Reid) first year back after their breakup the summer before, to Oz (Chris Klein) and Heather's (Mena Suvari) long distance relationship. We also get the return of some of the more amusing characters like Jim's Dad (Eugene Levy), Stifler (played by Sean William Scott who really steals the show) and Finch (Eddie Kaye Thomas).

Overall, American Pie 2 does a nice job of adding on to the storyline from the first Pie, while keeping the laughs somewhat new and original. Of course this is not a movie that requires much deep thought, nor a film that will move you in any way; it's just a fun flick; a popcorn flick to watch and laugh at with friends, nothing more, nothing less.

For DVD releases, the first Pie movie was presented in a number of ways, the sequel is no different. Yes, there are four different ways to get AP2. We get the rated and unrated versions in widescreen and pan and scan. Of course, as we heavily dislike non-original aspect ratio releases, for this review we will be focusing on widescreen, and, because we of course want to see more, we will go with the unrated version.

First off, the unrated version gives us a movie that is about six minutes longer. For the most part these are minor additions, allowing some of the more explicit scenes to hang around for moments longer; nothing is really added or detracted from this release, but as we all know, the unrated version will be most popular; especially when considering the movie's target audience: teens.

Since this is the widescreen version, video is presented in 1.85:1 anamorphic widescreen. Overall, this is a very nice transfer, with little noticeable grain or source blemishing to notice. There is also very little edge enhancement present, allowing for a more film-like presentation. Colors are nice and rich, while not bleeding, and darks and blacks are done very nicely. No compression artifacts were noticed. Overall, this is a very solid transfer.

Audio wise, American Pie 2 gets a pretty solid treatment but make no mistake that this is not the liveliest movie for audio ever. For the most part music is thrown around you, while most of your dialogue and action will be coming from your front three channels. We are given two 5.1 tracks, in Dolby Digital and DTS flavors. Neither is really standout from its counterpart, as their really is not too much for them to portray. If I had to choose between them, I would go with the DTS track, for slightly better imaging and detail, but either track will please. English captions and French subtitles are also included.

Extras wise, the DVD releases of American Pie 2 do a solid job of supplementing the feature, but many are simply promo pieces. First off, we have a featurette entitled "Your Favorite Pieces of Pie" which gives us ten scenes as per rated by the films website... really nothing to special if you own the original American Pie DVD. Next, we have 15 Classic Quotes, giving us more redundancy. Next, we have 30 Music Highlights, allowing us to see where music was played in a specific scene. Simply redundant.

Next up, we have four complete audio commentary tracks. These are all interesting in their own little way, but four tracks are quite exhaustive, your mileage may vary. First up is J.B. Rogers, American Pie 2's director. Next to the mic is the film's screenwriter Adam Herz. Next, we have a conglomerate commentary from Mena Suvari (who had very little screen time in the movie), Jason Biggs, and Thomas Ian Nicholas. Finally, we have a commentary from Eddie Kay Thomas. Overall, the commentaries are nice, but perhaps consolidation would have been better.

The aptly titled, "The Baking of American Pie 2" gives us a twenty-minute plus, basically promotional, look at the making of American Pie 2. In actuality, we just get discussion of characters and no real detailed information on how the movie was actually made. "Good Times With Cast and Crew" gives us a little glimpse more at some behind the scenes footage, basically with the cast just messing around. More of this type of comedy can be found on the included outtakes gag reel. We are also given an interesting feature, the "Original Casting Tapes" as the main players audition for their now famous characters.

Next up, we have seven deleted scenes. Rest assured to know that not all the deleted scenes are in the unrated cut. Finishing off the extras we have the standard trailer, production notes, cast and filmmaker information, a Three Doors Down music video, and a couple bits of promotional material.

Overall, American Pie 2 is a very fun movie. This is not a sequel that simply rehashes what we have already seen. This is a sequel that does a good job of advancing its previous characters, while staying fun in the process. As for the DVD, Universal has done a very nice job; giving us some nice extras, good sound, and a very good video transfer. Recommended; just remember to get the unrated widescreen version...
Please help support our site by buying this DVD title through this link. Thank you kindly.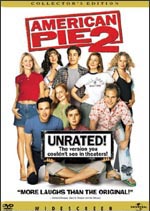 Purchase This DVD
Story / Content



Audio



Video



Extras