ARACHNOPHOBIA
Reviewed July 19th, 1999 by Staff
Arachnophobia, the fear of spiders. If you hate spiders this movie will send shivers up your spine. Amblin Entertainment put a great cast together including Harley Kozak, Julian Sands and John Goodman. The movie starts out in a safari into the deepest darkest jungles where all sorts of species thrive and have not been disturbed in centuries. Unknowingly one of the little 8 legged creatures sneaks a ride back to the United States. Soon people start dying left and right and it is up to the town doctor and a bug exterminator to clear the way to safety. A very suspenseful movie that will keep you on the edge of your seats.

The transfer on this little gem was a lot better then one would originally think given the movie was not a huge money maker. While it lacks an anamorphic transfer it is in widescreen format in the original theatrical aspect ratio of 1.85:1. The colors were very clear with no traces of bleeding or grain. A good transfer that could have been great if it had been given the anamorphic widescreen treatment.

The audio is labeled as DD 5.1 but is in fact only Dolby Pro Logic. We contacted Disney/Amblin and they confirmed the problem. A misprint on the sleeve says that is Dolby Digital 5.1 Audio. What is so special about DD 5.1, after all, it is the DVD Audio standard. Still it is a great soundtrack. You can literally here the footsteps of the various spiders! If you are fortunate to have a quality amplifier you will still receive a LFE channel that greatly enhances your viewing sensation. If not you are treated to a basic Dolby Prologic soundtrack It is very clear and very powerful and easily engulfs you in the movie!

Unfortunately the only extra's were a theatrical trailer and a small featurette, but this is an improvement for Disney/Amblin! Be glad they gave us a few extras and hope the trend continues! Overall a good movie filled with spine tingling chills and belly ripping laughs! If you can find it for a good price get it, since this one MSRP's for 29.99.
Please help support our site by buying this DVD title through this link. Thank you kindly.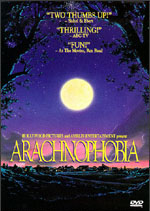 Purchase This DVD
Story / Content



Audio



Video



Extras