ARISTOCATS, THE
Reviewed August 5th, 2001 by David Nusair
There is a period in Disney's career of making animated movies that is often neglected. The period after such classics as Dumbo and Pinocchio but before their re-emergence with hits like The Little Mermaid and Beauty and the Beast. It's in this awkward phase that The Aristocats was born.

This is a surprisingly low-key affair, lacking any out-of-this-world animated sequences we've come to expect or even a strong lead character. It tells the simple story of a family of cats - a mother and three kittens - that are to inherit the vast fortune of a rich old lady. But the butler finds out about this and doesn't like it one bit. He kidnaps the felines and abandons them in the middle of nowhere. Now, the four cats are on a journey home, encountering various other animals along the way.

Those expecting a cornucopia of songs will surely be disappointed. There are a whopping two tunes sung throughout, and one of them is quite short. Much of the movie is devoted to the "road trip" that the cats are on. They hook up with a streetwise alley cat, and it doesn't take a genius to figure out that romance will eventually blossom between the stray cat and the mother Aristocat.

Is The Aristocats worth watching? Yeah, probably. Just as long as you don't expect it to be even close to such Disney masterpieces as The Lion King or Beauty and the Beast.

Audio: The Aristocats is presented with a 2-channel Dolby soundtrack, and it's not bad. Sure, a re-mastered 5.1 track would have been nice, but this one is adequate. The surrounds are (obviously) rarely employed, but the songs are sharp and the dialogue is always clear and easy to understand.

Video: The movie is sporting a full-frame transfer, and (on the whole) it's pretty good. There are quite a few film-related artifacts (this is quite an old movie, after all), but it's sharp and detailed. The film has been drawn in a style that occasionally allows you to see pencil marks, and their always easy to make out due to the crispness of the transfer. Colors aren't so great, though, as they tend to fade in and out during certain scenes.

Extras: Like most other Disney DVDs, The Aristocats comes with a storybook, which can either be read for you or by yourself. This is a nifty feature, and one that kids will no doubt love. There's also an Aristocats game, which doesn't really seem to have a point, but (once again) kids will likely enjoy it. There's also a trailer, along with some preview trailers that appear before the movie and are also accessible from the main menu (Dinosaur, Toy Story 2, The Fox and the Hound, etc).

Conclusion: As long as you don't expect much from The Aristocats, it's understated and low-key nature might just win you over.
Please help support our site by buying this DVD title through this link. Thank you kindly.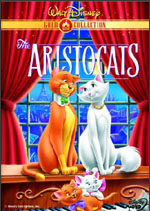 Purchase This DVD
Story / Content



Audio



Video



Extras