ARMAGEDDON
Reviewed February 7th, 1999 by Staff
Armageddon, as the bible for depicts, is the end of all living things on earth. We have just become aware that a large asteroid the size of Texas is about to impact the earth. Bruce Willis plays Harry Stamper a oil well driller, the best in his business. Earth's only hope is his crew of oil diggers.

The plan that the great scientists of NASA come up with is to drill a 800 ft hole and drop in a nuclear device, thus splitting the asteroid in two and causing each piece to just miss the earth! Now remember that Harry's crew has never experienced space travel, most of them don't even like to fly.

This leads up to an action movie that will keep you laughing, bring a tear to your eye, and even has a twisted little love story in it.

Another excellent action/comedy/drama movie from Bruce Willis. Armageddon runs a whopping 150 minutes.

The video transfer was excellent, not hardly a hint of grain, with sharp vibrant colors that are not over saturated. Although Touchstone did such a great job with the transfer they left out one small factor and that was to make the transfer Anamorphic Widescreen.

The audio is mastered in 5.1 and is superb. The mix uses the full 5.1 accompaniment and will take your breath away!!!

Finally, a word on the extras. They are very weak to say the least, but they include teaser, trailer, Aerosmith video, and a Sony Ad for the Armageddon CD. You may want to wait for the Criterion Edition of this movie that is slated to be transferred in Anamorphic Widescreen.

Either way this is a must for any DVD collection! Excellent Job Touchstone!
Please help support our site by buying this DVD title through this link. Thank you kindly.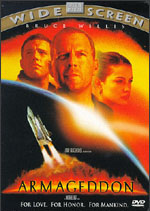 Purchase This DVD
Story / Content



Audio



Video



Extras