ASSOCIATE, THE
Reviewed August 22nd, 1999 by Staff
Whoopi Goldberg has never really hit it big in the box office. This is one of the few movies that she stars in that is not a torture to watch it the whole way through. The scene is set with Whoopi as is working her rump off to move up in a brokerage firm. Soon she realizes that this is still, in some cases, a man's world. After a royal backstabbing she forms her own investment house and finds that it was not just the firm she was at but most of corporate America that won't accept her ideas because she is a woman, regardless of how great or how much money her clients would have made. So what do you do? Whoopi invents a male partner, a silent partner so to speak! Soon she has spun a huge web of lies and is caught, but by this time so many people have made millions off of her that she no longer needs the guise of this illusionary partner and exposes to everyone how hypocritical they truly are. A great movie for the whole family, there are a few scenes that are more inappropriate for young children, but other then that worth the 29.99 MSRP.

If one did not know better one would think that Disney may have used the old VHS master of this movie. Numerous scenes are plagued with heavy grain and artifacting! This is not a movie to pick up if you wish to show off the image quality obtainable from DVD! However, it was presented in widescreen format at an aspect ration of 1.85:1.

The audio is a savior for the film if it was anything less then Dolby Digital 5.1 this title would not be worth buying! The audio is very clear and while the surrounds are not overly active they do provide a bit of support. Glad to see Disney is realizing that Dolby Digital is the standard and nothing less is acceptable!

The extra's are as usual skimpy, with only a theatrical trailer being given! Overall if you can catch this one on sale pick it up, but definitely not something to show off your system with!
Please help support our site by buying this DVD title through this link. Thank you kindly.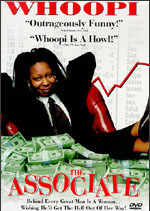 Purchase This DVD
Story / Content



Audio



Video



Extras