AUSTIN POWERS: INTERNATIONAL MAN OF MYSTERY
Reviewed October 10th, 1999 by Staff
This is not a movie, baby, it a non-stop, hilarious, smashing comedy. Written by the comical mastermind Mike Myers, who also produced and played multiple characters, Austin Powers is arguably one of the funniest films of all time, and definitely the most shagadelic.

Austin Powers (Myers) is, like you all don't already know, the most famous secret agent of all time. Frozen in the 60's, he is thawed back into action to do battle once again with his arch-enemy Dr. Evil (also Myers).With his new sidekick Vanessa Kensington (Elizabeth Hurley), the daughter of his old sidekick Mrs. Kensington (Mimi Rogers), Austin must stop Dr. Evil and his henchmen's outrageous plan to take control of the world.

The overall plot is little more than a means of moving from one hilarious one liner to the next. In some movies, this would be a bad thing, but in this case it is OK. Why? Because the one liners are actually funny and seem to get more so each time they are heard. This quality of the film is making it a cult classic. It's almost impossible to be around a Generation-X group, and not hear imitations of Austin or Dr. Evil.

The disc is two sided, so we get both anamorphic widescreen 2.00:1 and pan & scan standard 1.33:1 formats, which were converted from the High Definition transfer of the film resulting in outstanding color and detail. There is however some digital noise, especially in the dark areas of the picture, but since there is so much color you will hardly notice the problems. Considering this is an early DVD disc, the color and detail are amazing.

The audio is a crystal clear, English Dolby Digital 5.1. Although there are not a large number of action/explosion sequences, they sound good enough to show off that system.

The disc is jam packed with special features including: Both widescreen and standard full-frame versions, commentary by Mike Myers and director Jay Roach, seven deleted scenes including two alternative endings, "Star Highlights" showcasing the stars of this film in separate clips from five other movies, special cameo menu, "Music to Shag To" original animated sequence, Original Theatrical trailer, and Cast biographies and filmographies. The commentary is funny and educational, but is bogged down by moments where Myers and Roach stop talking and just watch the movie. Since the audio for the film is turned off during the commentary, comments like "that's a great line" don't really mean anything unless you have seen the movie 25 times. The deleted scenes are very entertaining and worth watching. The best is probably the Hooters scene with Rob Lowe.

Considering the age of the title, these are excellent supplements, and the DVD represented state of the art at its release date.
Please help support our site by buying this DVD title through this link. Thank you kindly.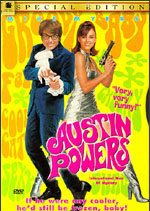 Purchase This DVD
Story / Content



Audio



Video



Extras