AUSTIN POWERS IN GOLDMEMBER
Reviewed November 26th, 2002 by Dan Jones
Austin Powers in Goldmember is one of those films you can't help but think could be better if it could escape its cookie cutter structure that has been so successful for the last two films. This time around the film just seems stale and at some points just not funny. The film starts out quite solid (some of the cameos are just plain hilarious) but goes south quite fast with fart joke after fart joke along with the same old stuff we've seen from characters past (i.e. Fat Bastard trying to be sexy, etc.). While there are some genuinely funny parts in Goldmember, the film does not equal up to the second installment, "The Spy Who Shagged Me" and definitely not up to the original.

The plot behind Goldmember is quite simple: Dr. Evil and a man known as Goldmember have kidnapped Austin's long-lost Dad. To help Austin in his quest to rescue him he picks up Foxxy Cleopatra played by Beyonce Knowles (of Destiny's Child). While this may be the actual plot of the film, you'd be hard pressed to find parts of the film that actually stick to it as the film jumps around continually, mainly for no other reason the to try at an elaborate joke (many of which just seem tired). The film does feature a ton of cameos from those whom you probably wouldn't expect making for some very funny moments.

Goldmember grossed over $200 million in the U.S. making it just about assured that there will be a fourth installment. One can only hope that Myers will try to think out of the box on future Austin's; not just simply rehashing the same characters in yet another ridiculous plot line. There is a reason the original is the best film of the lot: it was fresh; hopefully Myers realizes this. Goldmember is not a bad film; it just could have been so much more.

For this installment of the Austin series, Newline has placed Goldmember into their "Infinifilm" line of DVDs. Let's take a closer look.

Video wise, Newline has released Goldmember in both full screen and 2.35:1 anamorphic widescreen; of course for this review we'll ignore the full screen version, but if you do go pick the film up, remember to check. The widescreen transfer is definitely the best we've seen Austin yet. Colors are vivid without bleeding, blacks are rich while holding great shadow detail, and there was no noticeable grain present. The source seems to be in immaculate shape and I noticed no compression problems. Kudos to Newline on this one.

Audio wise, Newline has given Goldmember both Dolby Digital 5.1 Surround EX and DTS 6.1 ES Discrete tracks and they are outstanding. Who would have thought a comedy could have this much power in its mix. The LFE is very powerful here, along with great imaging from side to side and front to back, providing a great field of sound that is not easily localized (the way we like it). Voice clarity is pristine throughout. Comparing the DTS and Dolby Digital track, I'd have to give the nod to the DTS track for having a slightly more detailed presentation; both are sure to impress though.

Starting off the extras for Goldmember we have the standard Infinifilm section, "Beyond the Movie" that gives us four featurettes and the "Fact Track." This section is definitely the smallest of the Infinifilm "Beyond the Movie" sections that I've seen, offering no more then 10 minutes of featurettes that really don't add too much. The featurettes here are: "MI-6: International Men of Mystery", "Disco Fever", "English English" and "Fashion vs. Fiction". The aforementioned Fact Track is like Infinifilm releases past, allowing you to view the entire film with on-screen trivia and information.

Starting off the "All Access Pass" section, we have an audio commentary from the film's director, Jay Roach, and the man behind the Austin series, Mike Myers. Unfortunately this is a rather congratulatory track offering little in the way of insight, opting for a more "lets tell jokes and talk about how much we loved working with people" strategy. This isn't all bad though; there are some funny moments, but probably only worth a watch for those that are big fans of the series or the film.

Next up we have a number of deleted scenes, coming to about 25 minutes in length. Many of these are just extended takes or were cut for time, but there are a couple standouts here and there, my favorite being the musical number. All of these come with optional commentary from Myers and Roach.

"The World of Austin Powers" gives us another handful of featurettes, specifically "Jay Roach & Mike Myers: Creative Convergence", "Convergence of Characters: Goldmember, Foxxy Cleopatra, Nigel Powers, Masters Powers & Evil", "Opening Stunts", "The Cars of Austin Powers in Goldmember" and "Anatomy of Three Scenes (Dancing at the Gates, Roller Disco, and Sumo Battle)." These provide more information then the "Beyond The Film", the first two being the most interesting.

Next, we have a visual effects featurette that shows the process of making a small car enter Dr. Evil's submarine. We then have four music videos, specifically "Work it Out" by Knowles, "Boys" by Britney Spears, "Daddy Wasn't There" by Ming Tea (with Mike Myers) and "Hard Knock Life" by Myers. Finishing it off we have four theatrical teasers and the theatrical trailer.

Goldmember could have been a better film and with a sequel being basically assured by the film's box office success, I hope Myers goes back to the drawing board to try to recapture what made the original the best of the bunch; sequels don't have to be derivative. As for the DVD, Newline has done a great job with the presentation with great visuals and very impressive audio. We've also got a pretty decent selection of extras.

If you do not really follow the Austin Powers series, you may want to stick to a rental on this one. But if you are a huge fan of the series, this is an easy recommendation!
Please help support our site by buying this DVD title through this link. Thank you kindly.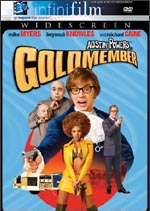 Purchase This DVD

Purchase Promo Poster

Story / Content



Audio



Video



Extras