VERY MERRY POOH YEAR, A
Reviewed December 16th, 2002 by Brian White
You might have seen the ad, or been forced to see the ad at the beginning of a Disney DVD: Winnie the Pooh and all of his friends are back in an "all new" holiday feature. Well, let's break that down. Certainly, Winnie the Pooh and all of his friends, Tigger, Piglet, Rabbit, and Eeyor, are back. The material on this disc is certainly holiday themed, as Christmas and New Year are celebrated. There is also plenty of new material. The one problem is that this is anything but an all-new holiday feature.

What we have on the disc is a new Christmas and New Year story involving the One Hundred Acre Wood residents, and in the middle of it, somebody says, "remember that Christmas when we…?" Cue the Wayne's World flashback effect and suddenly we're in the middle of the Winnie the Pooh Christmas special that airs every year. The entire Christmas special, over half an hour, is included. Now I'm happy that this material wasn't chopped down to fit into the "all-new" holiday feature, but it boggles the mind how Disney thinks they can bill this as an original release.

So, in effect, you have two holiday stories on the disc. The new bit involves the group getting on the nerves of the ever-crusty Rabbit. Christopher Robin suggests that a New Year's Eve party would be a good idea, and Pooh approaches Rabbit to host the party. Chaos results and Rabbit banishes them all, deciding to move away. In order to appease the upset rodent, the characters resolve to be anything but themselves for the New Year. Amusingly, in acting like their polar opposites, they become other members of the group. Eeyor's stint as a honey-munching Pooh is quite amusing.

The older cartoon, which is much better than the new cartoon, involves the characters crafting their Christmas wish lists for Santa, only to have its delivery complicated. Trying to make things better, Pooh takes Santa's place. Everything, of course, goes wrong. Pooh's absence allows the other characters to discover what is really important during the holidays.

Perhaps the older cartoon has nostalgia on its side, but the new stuff seems to be missing something. It isn't as though the production values aren't there. Carly Simon performs both the Winnie the Pooh opening theme and Auld Lang Syne. You also have a couple of new songs, and Tigger has a funny variation of Jingle Bells which gets repeated a couple of times. The difficulty with this package is after the original special ends, you really don't feel like watching the rest.

For video, the disc offeres 4:3, as one would expect from direct-to-video. This isn't the most detailed transfer for animation that I have seen, as there are some jagged edges where things should be smooth. The colors are expectedly good, and the design of this world is very interesting. The backgrounds really look as though they are lifted from storybooks. The One Hundred-Acre Wood looks great in the deep of winter, especially at night.

For audio, we are given Dolby Pro-Logic. It's not bad, but why not give us Dolby Digital on the DVD? There's really no reason for this, and it smacks of tight-fistedness.

Will your kids care about the video and audio quality? No. It looks and sounds good enough for kids. They'll love it and watch it over and over.

As for extras, you can sing along to the little bits of music, as a menu is provided that gives you instant access to the songs. Unfortunately, these tend to be very short, so you're left wondering why you bothered. You also get a couple of cute games, and an "Enchanted Environment," which is a shot of a tree and fireplace with music and sound effects. Are we supposed to leave this on in the background over Christmas?
Please help support our site by buying this DVD title through this link. Thank you kindly.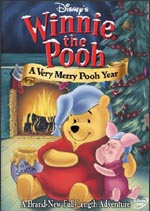 Purchase This DVD
Story / Content



Audio



Video



Extras