BABY BOY
Reviewed January 3rd, 2002 by David Nusair
After essentially working as a director-for-hire on Shaft, John Singleton returns to his roots with Baby Boy. Released ten years to the month after Boyz N the Hood, Baby Boy is a similar look at an urban neighborhood in Los Angeles.

Newcomer Tyrese Gibson stars as Jody, a young man of about 20 whose life seems to consist of hanging out with his friends and doting on his two girlfriends (and his two kids with said girlfriends). His easy-going life is interrupted, though, with the arrival of a new man into his mother's life (Ving Rhames). And as if that weren't enough, the former boyfriend of one of his girlfriends is about to be released from prison (and since he's played by Snoop Dogg, you can probably guess what kinda guy he is).

Baby Boy isn't about much – it's essentially just a peek into a few weeks into the life of an average, aimless 20-something slob. There's an aura of danger, however, considering the story takes place in the 'hood. Jody and his buddies are constantly on the lookout for trouble, and are ready to face it head on – guns and all. And while it's certainly a unique and occasionally fascinating look at a lifestyle completely alien to most of us, Singleton's plotless structure eventually winds up becoming awfully tiresome. There's only so much we can take of watching Jody go about his daily routine – which generally consists of him apologizing to one of his two girlfriends.

But this is territory that Singleton knows and is comfortable with, so we're given a seemingly realistic look at life in the 'hood. The cast, which consists mostly of unknowns, perfectly embodies their various roles – with Cuba Gooding Jr.'s little brother Omar a standout as Jody's pal Sweetpea. So, while it's not as gritty as Boyz N the Hood or as compelling as Higher Learning, Baby Boy is certainly worth checking out if only for the superb performances and the fully-developed characters. The lackluster plot on the other hand…

Audio: Baby Boy is presented with a DD 5.1 soundtrack and, not surprisingly, it's quite good. There's a lot of music in this movie, but it never drowns out the ample dialogue. Spatial effects are sparse but effective (check out the drive-by sequence for a perfect example of this).

Video: With it's anamorphically enhanced 1.85:1 transfer, Baby Boy looks great. This is a movie with a lot of darker scenes, and especially a lot of different shades of blue – and this transfer handles them all with ease. Outdoor scenes are bright and vibrant, too.

Extras: There's actually a good number of extras here, the first of which is a commentary track featuring writer/director Singleton. As he proved with Higher Learning, Singleton can be an incredibly entertaining fellow to listen to for a couple of hours. He provides many interesting tidbits on the production and on the genesis of the story. For instance, we learn that the part of Jody was initially to be played by rapper Tupac Shakur – a casting choice which obviously had to be rethought after his death. Next up is a series of deleted scenes, none of which provide any real insight into the various characters. These are all essentially filler, and while it was interesting to watch them, it's easy enough to see why they were cut. Next up is a short (around six minutes) blooper reel, which is a lot of fun. Next is an odd extra called The Kiki and Boo Show – which is a fake talk show in which two women talk about sex. Odd, but strangely compelling. Next up is a standard made-for-cable making of special, running around 14 minutes. There's nothing new to be learned here that we haven't already discovered in the commentary. Rounding out the package are a storyboard comparison, a trailer, some TV spots, and a few cast/crew bios.

Conclusion: Baby Boy is a fine addition to Singleton's resume – far better than his previous effort, Shaft.
Please help support our site by buying this DVD title through this link. Thank you kindly.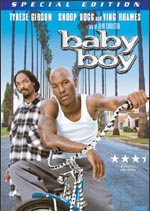 Purchase This DVD
Story / Content



Audio



Video



Extras