BAMBOOZLED
Reviewed May 21st, 2001 by Todd Terwilliger
Bamboozled, Spike Lee's latest joint, takes a satirical look at media, specifically television, and African America. Damon Wayans is Pierre Delacroix, a black writer for a television network. Delacroix has been trying to write intelligent African American sitcoms and shows, the network doesn't want them. In response, Delacroix decides to resurrect the minstrel show, a racially denigrating variety show performed in black face, that, he hopes, will get him fired. Delacroix and his assistant, Sloan (Jada Pinkett Smith), recruit two street performers (Savion Glover and Tommy Davidson) for the lead roles.

As always, Director Lee pulls no punches and holds nothing back. Both White America and Black America feel the brunt of his satirical attack, as well as icons like Tommy Hilfigger. While Delacroix ignores his roots (he changed his name and affects an accent), the other extreme is represented by the Mau Maus, a self-proclaimed revolutionary rap group headed by Big Blak Africa (Mos Def). While the Mau Maus' heart may be in the right place, they are clearly misdirected and ignorant.

The acting is all first rate. Tommy Davidson, for one, was a very pleasant surprise. Michael Rapaport is also excellent as Dunwitty, Delacroix's boss and the spokesman for the television studio's desires.

Released by New Line, the Bamboozled disc features an anamorphic 1.78:1 aspect ratio. The visual quality is excellent. Some scenes do have a large amount of grain but this is due to Lee using a variety of different cameras and film stocks and is intentional. Colors are very bright and contrast well with the deep blacks, especially the haunting black-face images.

There is both a Dolby 5.1 surround track and a 2.0 stereo track. The 5.1 track does it's job without being remarkable. Bamboozled does not feature many directional moves or audio effects. The surrounds are used almost exclusively for the score while there is little movement across the front. Dialog is always clear and constant at volume levels and the wonderful score sounds excellent.

There is a multitude of extra features on the Bamboozled disc. Ten deleted scenes are included, as well as an original documentary, art gallery, music videos, trailers, and the ever-present cast and crew filmographies. There is also a true gem in the form of a commentary by director Lee. Having written as well as directed the film, he is in the best position to discuss it and he covers all facets, from expounding on his ideas to the technical aspects of filming the piece. It is, by far, one of the best commentaries I've heard.

Bamboozled, like many of Lee's films, is an experience. Similar to Mel Brooks' The Producers, Delacroix has created his own Springtime for Hitler. Except, whereas Springtime, despite itself, mocked the Nazis, the minstrel show mocks only the African American community. The final montage, of scenes culled from original minstrel shows, as well as mainstream pictures from the first half of the last century shows that this not only can happen but has happened. And can happen again. It is profoundly powerful, as is the film as a whole.
Please help support our site by buying this DVD title through this link. Thank you kindly.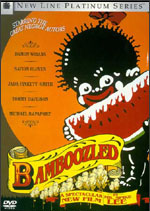 Purchase This DVD
Story / Content



Audio



Video



Extras