BASIC INSTINCT: SE (UNRATED)
Reviewed November 15th, 2001 by James Thomas
In the years since I last saw Basic Instinct, I had apparently forgotten how cheesy this movie was. The story was mildly intriguing, Sharon Stone was gorgeous, and there were lots of gratuitous nude scenes (and the infamous "crotch shot" is here in all of the glory that DVD is noted for). Those are the movie's good points. Michael Douglas does a fair job of acting, the acting of the other characters in the movie seems really forced, and Sharon Stone seemed like one of the Fem-Bots from Austin Powers. There were a lot of additional sex scenes, more graphic than the original ones in the movie, but I doubt many people would complain about those. I, myself, personally felt like I needed a shower after watching the film, like I was some kind of voyeuristic member of the cast: you, the viewer, will have to see for yourself.

For those not familiar with the story, a murder occurs that just happens to be right out of a book the Catherine Trumell (Stone) wrote, and the victim just happens to also be her boyfriend. Nick Kern (Douglas) gets involved, in more ways than one with Stone, as the investigating detective. Many murders and sexual encounters later, it appears that the case is solved, but wait, there is a surprise ending (dramatic music here; dum, dum, dummmmmm). I won't blow it for anyone that hasn't seen the film.

The picture is an anamorphically enhanced 2.35:1 image. I thought the picture looked a bit soft, not as detailed as I'd hoped for a "special edition" hyped disc. The negative they used looked like it had been scratched here and there, so it appears that there was no attempt at restoration. At times the movie seemed more fuzzy or grainy than others, but I didn't feel the picture was a real distraction.

Sound-wise, the movie was OK. Both 2.0 and 5.1 mixes were present on the disc, and there were also director's commentary tracks as an option. . There wasn't much going on in the surrounds, but when there was it sounded fine. Voices were detailed, but seemed to have excessive bass, as did quite a few scenes in the movie (I had to check to make sure no one had been messing with my sub-woofer); this was only mildly distracting.

Extras were abundant, but boring. The documentary "Blonde Poison" described the making of the film; I found myself reaching for the remote after only a few minutes of this (boring). Another documentary of sorts was "Cleaning Up Basic Instinct", which was nothing more than describing how the film was edited for TV presentations. A photo gallery of stills related to the movie did not provide much excitement, nor did the storyboards. I couldn't bring myself to listen to the commentary by "Feminist Critic Camille Paglia", but if I feel like torturing myself someday, maybe I will.

The only "easter eggs" found were Stone's screen test (by going to the special features menu and highlighting the ice pick, then clicking), Jeanne Tripplehorn's screen test (by going to the set-up menu, highlighting the ice pick and clicking), and a JVC commercial (by going to the set-up menu, highlighting JVC, then clicking).

All in all, this isn't a bad disc, and if you have some time to kill and a few bucks for a rental, go for it. Save your money on the purchase though.
Please help support our site by buying this DVD title through this link. Thank you kindly.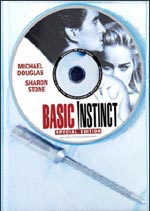 Purchase This DVD
Story / Content



Audio



Video



Extras