BATMAN
Reviewed September 24th, 2000 by Brian White
The big budget Batman feature festered for many years in Hollywood pre-production. Batman is one of the most successful comic book heroes, and Warner Bros' Interest in their sub-company (DC Comics)'s product was certainly justified. Perhaps the biggest hurdle facing the studio was exactly how to interpret the comic book for the big screen. Though famous, the television series from the sixties turned off several Batman fans, and couldn't translate into the blockbuster atmosphere of the late '80s.

Enter Tim Burton. Fans balked at the choice of the Beetlejuice and Pee-Wee Herman director to helm the movie. Even more troubling to fans was the fact that Burton cast Beetlejuice himself to play the hero. Michael Keaton was a seemingly strange choice, to say the least. There was one bit of casting that couldn't be criticized: Jack Nicholson as Batman's nemesis, the Joker. As Connery is to Bond, Nicholson is to the Joker; it's perfect casting.

What fans discovered, when the movie finally opened in the summer of '89, was a highly stylized, beautiful, quirky and brilliant film. Burton didn't portray the comic book world, or that of the sixties series. Instead, he created a new sort of Batman that pays homage to the dark edge of the comics, with an underlying silliness seen in the series. The incredible style of the film borrows from the Dark Night Returns comic series, and Brazil. It's a cross between the future, and the forties. The dreary Gotham skyline drips with art-decco architecture. Everything in Burton's Gotham is just off-centered, so it makes complete sense that a guy runs around in tights and a cape to solve crimes. Keaton captures the complex Bruce Wayne very well.

The Batman DVD was one of the first discs released. The anamorphic, 1.85:1 image is a little grainy. Despite this, it shows off the gothic beauty of the film quite well. The transfer doesn't stand up to the pristine transfers of the later Batman DVDs. A pan and scan transfer of the film is available on the flip side.

The 5.1 mix is mostly toward the front. Rear affects are used quite sparingly (if at all). This is not a bad mix, but it could be so much better (and this film deserves better).

Extras? Some talent bios and nothing much else.
Please help support our site by buying this DVD title through this link. Thank you kindly.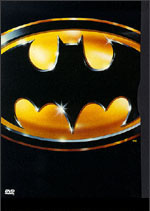 Purchase This DVD
Story / Content



Audio



Video



Extras