BATMAN RETURNS
Reviewed October 2nd, 2000 by Brian White
Odds are if you ask someone what they think about Batman Returns, you'll get a rather negative response. Many people (and probably Warner Bros) had problems with the dark sequel to the ultra successful Batman. It is a shame that people don't look a little closer at this film. It is certainly the most Burtonesque of the series. Fans of director Tim Burton get everything the man is capable of in this film. Bolstered by the success of the first film, perhaps the studio gave him more room to flex his vision of Batman's world in the sequel.

This improved Burton vision is apparent in many aspects of the film: Batman Returns is set at Christmas, and there's snow falling around the creepy, gothic statues of Gotham city. There are more crazy people doing crazy things. The movie isn't as labored a blockbuster as the first film, or those that followed. It is the best film of the series.

Michael Keaton reprises his role as the dark-night detective in what would be his last appearance. Danny DeVito portrays the Penguin in a rather evil way. Michelle Pfeiffer wears really tight black leather, Christopher Walken is evil and creepy, and Robin hasn't shown up yet. What else could you ask for?

The film focuses on the Penguin's rise and fall. The Penguin is an abandoned child (see former Pee-Wee Herman in a brief appearance as the Penguin's father). However, the most interesting aspect of the film is the duel relationship between Catwoman and Batman/Bruce Wayne and Selina. Catwoman and Batman are enemies, despite ample sexual tension. Bruce Wayne and Selina are lovers. It's amusing to see them at a costume party. The only two without costumes are the undercover Batman and Catwoman, who wear masks every other day. Note the Catwoman's entrance, in a tip of the hat to Phantom of the Opera.

The DVD of Batman Returns was an early release. Its transfer is much improved over that of the first film. The 1.85:1, anamorphic transfer is quite sharp. Given the art that Burton puts into the frame for most of the picture, this is a real treat. A 4:3, pan and scan transfer is on the flip-side of the disc.

The 5.1 mix is also greatly improved over that on the disc to the first film. There are many more split surround effects, and feel that sub rumble when the jet-engine on the Batmobile goes off. The mix is not as dynamic as more recent films, but it is quite satisfying.

Being an early disc, there is next to nothing in the way of extras. There is a trailer, and some production notes.
Please help support our site by buying this DVD title through this link. Thank you kindly.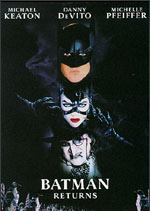 Purchase This DVD
Story / Content



Audio



Video



Extras