BEAUTIFUL JOE
Reviewed August 20th, 2001 by David Nusair
The packaging for Beautiful Joe should contain a disclaimer that reads, "not to be watched by cynical viewers."

Billy Connolly stars as Joe, a man who - as the movie opens - has just learned that his wife's been having an affair and that he's got a brain tumor. Around the same time, he finds himself infatuated with a woman (played by Sharon Stone) he meets while betting on horses. He quickly finds himself becoming a major part of her life, while she sees him as a profitable solution to all her problems.

Beautiful Joe is incredibly sentimental and sappy, but it's very enjoyable for just those reasons. This is one of those movies where all the central characters go through a journey of self-discovery, and it's really refreshing to occasionally watch a movie like this. After countless bawdy comedies and lame action flicks, it's nice to cleanse one's palate with a film that leaves you smiling after it's over.

But a film like this would be completely ineffective without good actors, and Beautiful Joe doesn't disappoint in that regard. As Joe, Connolly - an Irish comedian who has lately been working steadily in drama, most notably in Mrs. Brown - is note-perfect as a sort of "boring" guy who gets the wake-up call of his life. Joe is somewhat of an innocent, not completely aware of how seemingly simple things work (he has no idea how to make a bet at the horse track, for example) - but Connolly never plays him as an idiot. Equally good is Stone (surprisingly enough) who's more recent attempts at drama have been embarrassing (she was completely horrible in Casino). But here - playing the woman who just wants to do right by her two kids - Stone doesn't overact or embellish her character with unnecessary ticks. She plays the woman exactly how she should be played - as someone who initially sees Joe as an easy target but eventually is won over by his charm.

Beautiful Joe has a real heart to it, and nowadays, that's something worth seeking out.

Audio: Beautiful Joe comes equipped with a 2.0 Dolby surround track and it's nothing special. This is a film that is mostly dialogue, so it's a good (adequate is probably a more accurate word) track.

Video: The transfer is much better, though, with a 1.85:1 anamorphic picture. This is a smooth and sharp transfer, without much artifacting. There is some grain, but one would have to assume that this is film related.

Extras: There are filmographies for Connolly, Stone, and director Stephen Metcalfe and a trailer for the film (along with trailers for Year of the Gun and Gloria).

Conclusion: Beautiful Joe is certainly worth a rental, but is probably not worth owning.
Please help support our site by buying this DVD title through this link. Thank you kindly.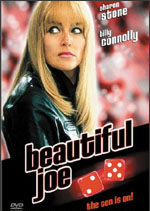 Purchase This DVD
Story / Content



Audio



Video



Extras