BEDKNOBS AND BROOMSTICKS
Reviewed April 8th, 2001 by John Randall
"Filigree, Apogee, Pedigree, Pedidgee"

I have to admit that this is one of my favorite live action Disney movies. When I was young, my entire family would curl up to watch this masterpiece on video tape or the Disney channel. When I found out that the film was finally coming out on DVD, I couldn't wait! In fact, I learned that they had restored the film back in 1996 during its 25th anniversary which included shots and songs not in the original.

Now the film is presented in a 30th anniversary DVD edition and I was more than happy to check it out. In fact, I had to watch it 3 times before even writing this review.

The film has a pretty simple storyline. Miss Eglantine Price (Angela Lansbury) is living in the a small English town and takes in three orphan children. Charles, Carrie and Paul all have lost their parents during the war (WWII). One night the children learn that Miss Price is actually a witch when they view her flying on a broom. Upon learning that Miss Price's teacher Professor Emelius Browne (David Tomlinson) is closing the witch school before she gets the final important spell she has been waiting for, Miss Price and the children run off to London to find him.

From there the story gets very fun and musical with short trips to "Portobello Road" and the island of Naboomboo.

The film in total is a mixture of humor, song and animation that can keep everyone highly entertained.

The video is presented in 1.66:1 anamorphic widescreen and NEVER looked so good. I was so highly impressed. The only real problem with the video was during the Portobello Road number when new footage was added back in to make the number longer. Besides that - WOW. Let it also be known that some 22 minutes has been restored in total.

The audio has been redone in Dolby Digital 5.1 and rocks. It may not be a real modern type of 5.1 mix, but kudos to Disney for taking the time out and doing it! Music and dialogue are generally very good. I did have one small problem with some of the recording of dialogue. Some of it sounded like baby talk, but that isn't a sign of a bad soundtrack - just some bad looping.

Extras include a short featurette about the music, "A Step In The Right Direction" song with pictures, the great David Tomlinson during a recording session of "Portabello Road", a still gallery, "The Worm Turns" and "The Vanishing Private" cartoons, trivia questions, and some trailers.

In conclusion, I have to say that I really do love this movie and this DVD. I really enjoyed seeing the added footage as well, but some of the new dialogue recordings were annoying. Highly recommended.
Please help support our site by buying this DVD title through this link. Thank you kindly.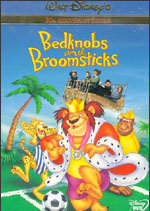 Purchase This DVD
Story / Content



Audio



Video



Extras