BEN HUR
Reviewed March 7th, 2001 by John Randall
For starters, if you have never seen this amazing epic, then you just don't know what you are missing!

To the younger crowd, let it be said that even though this movie runs almost four hours, was made in 1959 and is rated G, it does not mean that the movie isn't full of wonderful violence. Besides that the film has a great storyline!

It did win 11 Oscars after all...

The movie stars Charlton Heston who does a wonderful job as the Jewish prince, Judah Ben-Hur. During the course of this very thought provoking film, Judah has to deal with revenge, hatred, religion and slavery to name just a few. Stephen Boyd plays Messala and also has a hell of a good performance.

The musical score is perfect for this type of film and it can actually cause emotional outbursts in some people. The movie is well written, the direction by William Wyler is right on, the story has some great characters, and you can't forget about the great chariot sequence or the appearance of Christ.

The video is presented in 2.76:1 anamorphic widescreen and it would be suggested not to show this movie to people who have never seen a widescreen movie (at home) before. There is a LOT of black space here! The movie was made in 1959 so age is a bit of an issue regarding what to expect on the video quality. Tint does seem to be a bit off on occasion, but overall this is a well-done job by Warner. Just because it isn't the type of presentation we'd see in today's movies, don't let that stop you from getting a timeless movie like this one. This is truly better than any release before and its great not to see a chopped up pan&scan version.

The audio is presented in Dolby Digital 5.1 and for an old movie, sounds pretty good. The surrounds pump out mostly mono sounds and overall the sound is a lot flatter than modern movies, but it was much better than was expected. A DD 2.0 French track is also include.

Extras include audio commentary by Charlton Heston, a documentary, some screen tests, a photo gallery, some trailers and more.

No matter what religion you may believe in, this is one powerful movie and a very find job by Warner. The movie is presented on a DVD-18 (double-sided & dual-layered) disc and 100% worth the $20.00. Adventure on the ocean and the desert - this one is highly recommended.
Please help support our site by buying this DVD title through this link. Thank you kindly.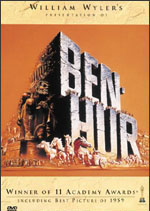 Purchase This DVD
Story / Content



Audio



Video



Extras