BEST IN SHOW
Reviewed June 19th, 2001 by Brian White
Best in Show is another quirky pseudo-documentary from the mind of Christopher Guest. Guest appears in the film, directed the film, and co-wrote it with Eugene Levi. Best in Show follows the also hilarious Waiting for Guffman, also directed by Guest, and co-written with Levi. This pseudo documentary (or "mockumentary") style, which features actors pretending to be "ordinary" people is quite funny, when done right. Perhaps Guest got the idea from his funniest and most famous movie: this is Spinal Tap, where he played the excellent Nigel Tufnel.

Best in show is about a group of people who come to Philadelphia for the "Mayflower" dog show. The Mayflower is apparently a very important show. Best in Show follows the characters as they prepare for, and enjoy the big dog day. The whole hook of the comedy here is seeing weird, but real people doing weird but real things.

The ensemble cast features Guest, Levi, Catherine O'Hara, Parker Posey, Michael Hitchcock, Fred Willard, Michael McKean and many others. There is plenty of comedic talent on the screen, and Guest captures it all very well. Fans of SCTV will enjoy Levi and O'Hara playing a funny couple from Florida. O'Hara plays the wife with a history; Levi suffers from an interesting physical affliction and must deal with the ghosts of his wife's past. Guest plays a very serious dog owner who runs a fishing supply shop and enjoys ventriloquism. His monologues are worth the price of the disc.

The DVD looks like one would expect a documentary to look. This is not supposed to be a whiz-bang special effects movie. It's supposed to be like something you'd see on PBS or Bravo. As such, the DVD doesn't blow one away. The state of the transfer takes nothing away from the movie. The transfer is anamorphic, 1.85:1. This isn't a bad looking movie by any stretch; it just isn't a demo disc.

The audio mix is Dolby digital 5.1. Like the video transfer, the audio mix does what it's supposed to. The mix doesn't aim to impress, but the movie is so entertaining you won't care. Every now and then a movie comes out on DVD that isn't about your home theater. Learn to deal with it. I'm trying to.

Oh wait, the DVD format is saved with the extras on this disc. There is an alternative ending and more importantly, a feature-length commentary with Guest and Levi. There are deleted scenes with commentary and a little thing about dogs and their real owners.

All in all, this is too much fun.
Please help support our site by buying this DVD title through this link. Thank you kindly.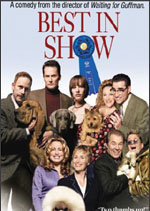 Purchase This DVD
Story / Content



Audio



Video



Extras