BEVERLY HILLS COP
Reviewed January 28th, 2002 by Dan Jones
Finally. One could only assume that as DVDs now extreme popularity and market share, that the more coveted titles that were non-existent on the format would soon become available for clearly obvious reasons, money, money, money. The Beverly Hills Cop trilogy was one of these coveted DVD titles to be MIA over the years of growing popularity of DVD; now, on January 29, 2002, the wait will be over, for the entire series.

Beverly Hills Cop was a complete and total blockbuster juggernaut when it was released to theaters back in 1984. Grossing over three-hundred million dollars worldwide, this very low budget film broke all expectations and quickly created an Axel Foley following.

The short plot outline of the original Beverly Hills Cop revolves around a Detroit cop, Axel Foley and his trip to Beverly Hills, California to find and unmask the man whom killed his friend. While in California, the police force assigns two men, Detective Billy Rosewood and Sergeant Taggart, to keep tabs on Foley. After a while though, these two men essentially join forces with Foley as he gets closer and closer to the truth. The main comedy of the movie revolves around the differences between Foley from Detroit, and the people he interacts with in California.

Beverly Hills Cop was definitely a landmark film, propelling Eddie Murphy to superstar status, as well as being a breakthrough film for Jerry Bruckheimer and Don Simpson, whom both went on to extremely successful careers.

For a movie with a budget that was peanuts compared to how much the film grossed, it was only logical, and moreover assumed that a sequel or two would be created. While Beverly Hills Cop II did not do QUITE as well as the original, it did gross near three hundred million dollars again worldwide, making a third installment of the series a no-brainer. While the original Beverly Hills Cop is easily the best in the series, II and III were both a bit lacking. Nevertheless, with sequels, when does this not happen? Rarely. So... without further babbling, on to the DVD.

Paramount has done quite an admirable job in bringing the Beverly Hills Cop Series to DVD. Unlike the Godfather box, Paramount is giving the option of buying these three films separately, or at a slight discount in an all-in-one box set (of course the features are the same).

Video wise, Beverly Hills Cop is presented in 1.85:1 anamorphic widescreen and overall, the transfer looks very good for the films age and limited budget. This is undoubtedly the best the film has looked on any format. Yes, grain is relatively noticeable throughout, but besides that, there is very minimal to complain about. Darks are deep and rich, and contrast is very good throughout. There is little to no noticeable compression artifacting, as well as very minimal use of the dreaded edge enhancement. Overall, this is truly an exceptional restoration job by Paramount and should leave any fan of the film quite pleased; you can give that old THX certified laserdisc a rest.

Unfortunately, the audio restoration is not equivalent to the job done restoring the video. Yes, we are given a new 5.1 Dolby Digital remaster, but the source that this remaster is drawn from is truly obvious as mono... only so much can be done I assume. This is not to say this remaster is poor, because that is not the case. The audio is given much more room to breathe in this track, as compared to its earlier counterparts. Yet, nearly all of the audio will be coming from your front speakers, with very little in the way of activity from left to ride, and even less from front to back. The addition of the LFE track does a fairly nice job at adding that extra punch, yet it is not used as much as I would have liked it. Overall, this is an improvement, and it is quite noticeable, yet I wonder if it could have been slightly better. Also included are 2.0 tracks in English and French, along with English captions and subtitles.

Out of the entire Beverly Hills Cop series released by Paramount, Beverly Hills Cop the original contains the majority of the extras, probably due to it being the most successful and well liked of them all. First off, we have a commentary track by the film's director Martin Brest. This is a fairly informative, yet somewhat sparse track that delves into much of what went on in filming the movie, as well as some humorous tidbits at filming in Detroit.

Next, we have "Beverly Hills Cop - The Phenomenon Begins." This was quite an enjoyable watch, even though it ran for only a half hour. This gives us quite a bit of information about how the original story was to be told, and how it eventually panned out. We also get some interview material with Mr. Murphy, as well as his view on the sequels and what they might have done wrong.

Rounding out the featurettes we a Location Map, which gives us just that, where the film was shot as well as a short interview, a look at the casting process of Beverly Hills Cop, and a feature on the music of Beverly Hills Cop. Finally, we have the films theatrical trailer and a fairly standard photo gallery.

Perhaps the biggest disappointment of this release is the all to apparent lack of Eddie Murphy. I would have really enjoyed listening to a feature length commentary about his take on the film... it just would have been a standout extra I feel. But alas, you can't have your cake and eat it too...right?

Of the entire series, the original Beverly Hills Cop is clearly the best, and Paramount has done quite an admirable job at bringing it to the DVD format...finally. While there are not tons of extra features on the disc, and the Dolby Digital track leads a bit to be desired, the video transfer is top notch and the film is legendary. If you love the whole series, or even two of the films, you might as well just buy the complete series box set, if not, the original film should satisfy you just fine. Beverly Hills Cop on DVD is highly recommended.
Please help support our site by buying this DVD title through this link. Thank you kindly.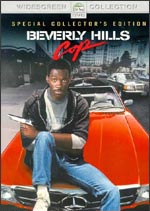 Purchase This DVD
Story / Content



Audio



Video



Extras