BEVERLY HILLS COP II
Reviewed January 28th, 2002 by Dan Jones
The process of making a sequel is a very delicate animal... simply rehashing the preceding film makes for quite a stale film, a been-there done-that sort of experience. Sometimes films find ways to reinvent themselves, other times films try to modify the original's formula slightly, most of the time we get more of the same. Beverly Hills Cop II falls somewhere in between.

After the extreme popularity of Beverly Hills Cop, Beverly Hills Cop II had to be made; a film that grossed as much as the original did, as well as the type of film this was, naturally allowed for a sequel. This time around, Eddie Murphy was allowed to write most of the film, and what we came out with was somewhat of a mixed bag. As I said before, its hard to not rehash sequels, the first movie did well, so lets do it again with slight modifications, right?...

Beverly Hills Cop II revolves around Axel Foley and his trip back to Beverly Hills, California to find the person that attempted to murder his friend from the Beverly Hills Police force, Captain Andrew Bogomil. On his trip back, he reunites with Detective Billy Rosewood and Sergeant John Taggart whom agree to help him find the assassin that tried to take out Bogomil. To add to the mix, Chief Harold Lutz does not quite approve of Taggart and Rosewood, and is looking for a reason to remove them from the force.

Overall, Beverly Hills Cop II is a bit less action orientated then the first, yet is fun to watch and keeps you laughing throughout. As with 99% of sequels, Beverly Hills Cop II is not as good as its predecessor, yet it is leaps and bounds better then the third installment of the series. It's a popcorn movie, and Eddie Murphy of course brings the laughs. Oh, and it still grossed three-hundred million dollars worldwide.

Video wise, Beverly Hills Cop II is presented in 2.35:1 anamorphic widescreen and looks quite good overall. Much like the DVD release of Beverly Hills Cop I, this presentation of BHC II is undoubtedly the best the film has looked on any format. As Cop II was shot in Super 35, there is quite a bit of grain noticeable on the transfer throughout, yet this is an inherent drawback of Super 35 so we really cannot blame Paramount. Darks are deep and rich, and contrast and color are excellent throughout. There is no noticeable compression artifacting, and very minimal use of edge enhancement. Minus the grain, this is a very nice transfer from Paramount.

Audio wise, Beverly Hills Cop II is given the same treatment audio track wise as its predecessor, in the form of an English Dolby Digital 5.1 track, and 2.0 tracks in English and French. Compared to the original film, Beverly Hills Cop II's 5.1 track is noticeably better due to the films production, but again somewhat disappointing due to very minimal surround activity and just overall un-liveliness. Most of the effects come from the front, and image noticeably better then Cop I, yet there is little front to back movement throughout. Not a bad remaster by any extent, just somewhat unimpressive. Also included are English captions and subtitles.

For extras, we continue with a featurette entitled, "Beverly Hills Cop II – The Phenomenon Continues." This is similar to Cop I's feature of essentially the same name, giving us some more interview footage with Tony Scott, as well as some of the cast and production team. We get some tidbits from Murphy, but nothing really of substance. Hugh Hefner also has a small part. This feature runs a bit shorter then its counterpart on Cop I, yet is insightful and worth a watch.

Next, we have one single solitary deleted scene, which revolves around the break-in to the Gun Club. This is kind of a cool scene, yet not surprising that it did not make the final cut. We are also given a production featurette, which features Tony Scott, as well as some more with Hefner and his allowing of filming at his mansion.

Rounding it out, we have the Shakedown music video feature (not the video itself), and the theatrical trailer.

Most noticeably missing from this release, as compared to Cop I, is an audio commentary track... and again essentially nothing from Eddie Murphy.

Beverly Hills Cop II is a fun ride that brings back the cast from the incredibly successful original. Perhaps Cop II is a bit of rehash of the original, but it is still a quality film, much more then Cop III and Paramount has done a nice job of bringing it to DVD, finally. If you love the whole series, or even two of the films, you might as well just buy the complete series box set, if not, Beverly Hills Cop I and II should satisfy you just fine. Recommended.
Please help support our site by buying this DVD title through this link. Thank you kindly.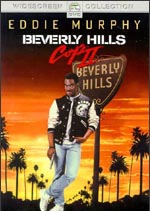 Purchase This DVD
Story / Content



Audio



Video



Extras