BEVERLY HILLS COP III
Reviewed January 28th, 2002 by Dan Jones
Make no mistake; Beverly Hills Cop III is the red-headed step child of the Beverly Hills Cop series. Its one of those "what went wrong" kind of a flick that truly should not have been made, or at least should not have been made with this script. When Beverly Hills Cop I and II grossed over six-hundred million dollars worldwide I can accept that there will be another entry, but what is here serves no real purpose, except to cheapen the series as whole.

Beverly Hills Cop III has so many problems, the biggest one being the extremely weak plot that serves to bring Axel Foley back to Beverly Hills (do we still consider him a Detroit cop at this point???). Basically Axel is brought back to Beverly Hills after his friend Todd is murdered. Here Axel stumbles upon a counterfeit money operation, and attempts to find his friend killer. What might sound decent on paper, just seems to blow up in your face, truly offering nothing better over the first two entries in the series, and just leads to poor jokes and ridiculous scenarios.

There's really not much else to say about Beverly Hills Cop III; yes we get Eddie Murphy, but little to anything else is worthwhile. Thankfully, enough the public realized that this film was not up to the quality of its predecessors and theatrically, the film did not reach its budget.

I really cannot bring myself to say much more about it.

Being the Beverly Hills Cop III is the most recent in the series and therefore the 1.85:1 anamorphic widescreen transfer is the best of the trilogy. Colors are vibrant and rich, darks and blacks are very deep, and detail is fairly high. There are no noticeable compression problems, as well as very minimal use of edge enhancement. The source of the transfer does have some slight marks here and there, but overall this transfer looks very nice.

Audio wise, Beverly Hills Cop III is given the same treatment audio track wise as its predecessor, in the form of an English Dolby Digital 5.1 track, and 2.0 tracks in English and French. Compared to the first two films, Beverly Hills Cop III's 5.1 track is noticeably better due to the film's production. The surrounds are much more actively used, offering more then just the films score. The LFE channel is not as powerful as one might expect it, but it did do a nice job of enhancing the track. Overall, this is leaps and bounds better then the first two movies, but as it is much more recent, it is to be expected. Also included are English captions and subtitles.

For extras, we have a featurette entitled, "Beverly Hills Cop III – Triple Axel." This is similar to Cop I and II's featurettes of essentially the same name (notice they removed phenomenon from the featurette's title), giving us some more interview footage with some of the cast and crew. This really is not all too informative, probably due to the fact that the film bombed when compared to I and II.

We also get the theatrical trailer. Obviously Paramount could not find much in the way of supplements to offer on this disc as few people probably wanted to come back to talk about Cop III.

Beverly Hills Cop III is truly a disappointment to the series and therefore I cannot recommend it unless purchased in the box set. But, if you happen to be one that enjoyed the movie, you'll be happy with the audio and video transfers on this disc.
Please help support our site by buying this DVD title through this link. Thank you kindly.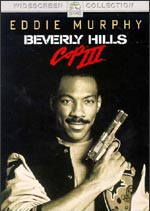 Purchase This DVD
Story / Content



Audio



Video



Extras