BIG NIGHT
Reviewed April 8th, 2001 by Todd Terwilliger
It's the Jersey Shore in the 1950s. Two brothers from Italy, Primo (Tony Shaloub) and Secundo (Stanley Tucci) are struggling to keep their true Italian restaurant above water while their rival Pascal (Ian Holm) runs a hugely successful eatery featuring Americanized cuisine. Desperate to drum up business, the two brothers plan a dinner, a gourmet feast, for the famous bandleader Louis Prima.

Big Night did not get a big run when it was released in 1997. It was limited to the small circuit of art house theaters and was easily overlooked. The film was, however, critically praised and rightfully so. Shaloub and Tucci work wonderfully together as the two brothers. Primo is the idealist while Secundo is practical. One refuses any change while the other is perhaps too willing to risk anything. Holm is suitably flamboyant for the highly successful Pascal. He is both charismatic but also cold and calculating. Minnie Driver (pre Good Will Hunting) and Isabella Rosselini round out the major players.

The scene-stealer, though, is the cuisine itself. As each course is prepared and served for the climactic dinner, the dishes leap off the screen. It will make you hungry simply to watch. Although the preparation and presentation of the dinner takes up fully half of the screen time, it never bores. Big Night is able to keep things moving at a pleasant pace.

Although not mentioned on the packaging, the 1.85:1 video transfer is anamorphic. The film looks very nice. The pastel colors of the brothers' restaurant are well represented, as are the bright reds of Pascal's. Blacks are dark and there is good shadow delineation. Specks and scratches predominate a few periods but those pass and, even at their worst, they're not terribly bothersome.

The soundtrack is mastered in Dolby Digital 2.0. There's not much here to warrant a fancier 5.1 setup so there's no complaints. Big Night is all about dialog and music and the soundtrack handles both these very well. The music, filled with vintage tunes and Italian songs, really shines. My only nitpick would be that the dialog is mastered at a slightly low volume, but it's a small complaint.

Big Night is a five star film. It's a shame Columbia did not give it a five star treatment. A theatrical trailer is the only extra to book end the film. It's always disappointing to see a great movie in a not-so-great package but, alas, such is the case here.

Big Night, like so many films, slips under the mainstream radar. This is unfortunate because it deserves so much more attention. It is extremely clever and adept at grabbing and holding attention, even though the only "action" is cooking and eating! Although it won no Oscars, it did win a well-deserved Sundance award for Best Screenplay. Big Night is so good that you don't have to be a cook or a lover of food to enjoy it. You'll find yourself drawn to it's culinary tale.
Please help support our site by buying this DVD title through this link. Thank you kindly.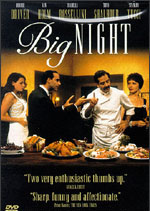 Purchase This DVD
Story / Content



Audio



Video



Extras