BIG TROUBLE IN LITTLE CHINA
Reviewed May 5th, 2001 by John Randall
"Hey, I'm a reasonable guy. But I've just experienced some very unreasonable things..."

How many action movie fans have never seen this awesome film? How long have you been waiting to see this great 1986 John Carpenter movie on DVD? If you are like me you most likely have an old pathetic VHS copy of the movie stashed away somewhere. In fact, I pulled the VHS copy out about 6 months ago and watched it. Man, I do love this movie. At long last the great tell of Jack Burton has come to DVD.

Kurt Russell stars as Jack Burton, a truck driver with a big ego. Jack meets up with his old pal Wang (Dennis Dun) for a night of drinking and gambling. When morning arrives Wang owes Jack a ton of money. Wang tells Jack he must go to the airport to pick up his fiancé who is coming in from China so they both go to the airport. Unfortunately, his girl, Miao Yin, is kidnapped by a some sort of Chinese gang. The guys go after the gang and soon find them selves in an old alley surrounded by tons of people killing each other. We find out later that the mysterious Lo Pan (David Hong) is behind the kidnapping. Lo Pan has been cursed and needs a woman with green eyes to become whole again. With the aid of lawyer Gracie Law (Kim Cattrall) and the very interesting Egg Shen (Victor Wong), can they save Miao Yin and put stop Lo Pan's destructive ways?

I know the storyline seems a bit confusing, but it really isn't. This is an overly simple comedy-action movie. Just in case you have not actually seen the movie yet (hard to believe), I left out major chunks of the plot outline above so you can really experience the movie for the first time.

The video is presented in 2.35:1 anamorphic widescreen and is truly breathtaking. The DVD makes the old VHS release look like the true crap that it is. The image isn't 150% throughout the whole film, but it sure was better than expected.

The audio is presented in Dolby Digital 4.1 and DTS 5.1. Both are rock solid for this type of dated-material. I honestly couldn't tell a difference. English and French DD 2.0 tracks are also available.

Besides the great video quality, this 2-disc DVD set is pretty good in the extras department. Included is an audio commentary by John Carpenter and Kurt Russell, way cool deleted scenes, an alternate ending, a nifty little behind the scenes featurette, still gallery, a crappy music video, trailers and more.

This movie is obviously highly recommended and so is the DVD set!!!!!
Please help support our site by buying this DVD title through this link. Thank you kindly.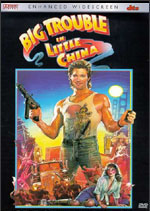 Purchase This DVD
Story / Content



Audio



Video



Extras