BILL & TED'S BOGUS JOURNEY
Reviewed November 19th, 2001 by John Randall
"I got a full-on robot chubby…"

The two dudes are back in their second adventure. De Nomolos, an evil dude from the future, creates two evil Bill and Ted look-alike robots and send them back in time to destroy our favorite heroes.

In fact, the two robots end up killing Bill and Ted. We then get to see Hell, Heaven and even the Grim Reaper – who ends up playing a big role. Will Bill and Ted find a way back to Earth to save their band and their chicks before the evil robots destroy everything?

Picking up shortly after the first movie, this movie just didn't live up to the original for me. True, the film does have its moments! Keanu Reeves and Alex Winter do a great job recreating their roles and so does George Carlin as Rufus. The funniest moments come from William Sadler (Colonel Stuart in Die Hard 2) as the Reaper.

Obviously missing from this film is the great time travel from the first movie. Very few historical figures in this one minus the opening sequence.

But one of the true highlights is the end of the film – which I won't give away. If you are a Kiss fan (as in the music group) – you might wanna check out this one.

The video is presented in 1.85:1 anamorphic widescreen and varies in quality. There big problem with grain and scratches still apply.

The audio has been redone in Dolby Digital 5.1 but just doesn't rock like I had hoped. As with 'Excellent Adventure', the sound is only real good in key sequences.

Extras are a tiny bit better than 'Excellent Adventure'. This time around they have included a trailer and a short documentary. The documentary wasn't anything special but it was better than nothing!

Overall, fans are going to probably purchase both of these discs and they are quite recommended for the fans. To everyone else, it is worth at least a rental. But since you can find this title under $12, it might just be worth it to add to your growing collection.
Please help support our site by buying this DVD title through this link. Thank you kindly.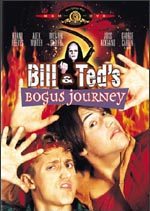 Purchase This DVD
Story / Content



Audio



Video



Extras