BILL & TED'S EXCELLENT ADVENTURE
Reviewed November 19th, 2001 by John Randall
"All you boys seemed to have learned is that Caesar is a salad dressing dude..."

Ahhhh I love this movie too. Unfortunately, I've seen it so many times over the years that the jokes and classic lines aren't as funny as they used to be.

We've got Bill S. Preston, Esquire (Alex Winter) and Ted Theodore Logan (Keanu Reeves) – two hip "dudes" - who go on a time travel journey (in a phone booth no less) to capture famous people of the past to present them at an oral history report. To aide them in their time of need is Rufus (the gifted George Carlin).

This is really a wacky adventure. Along the way we find out that Rufus has come back in time to help the dudes since, way in the future, life on Earth is based on the music of Bill & Ted's music group "Wild Stallyns". Of course at present Bill & Ted can't even play!

Just some of the famous people we seen in modern time include Billy the Kid, President Lincoln, Joan of Arc, Socrates, Genghis Kahn, Beethoven and more. And don't forget Napoleon who goes berserk a water slide park. And could anyone really forget Genghis Kahn thrashing the sporting goods store? Classic!

This movie will surely keep you entertained and keep you laughing.

The video on the DVD is presented in 2.35:1 anamorphic widescreen and just didn't live up to my expectations. There is tons of grain and specks. The movie really needed to be cleaned up before a DVD release.

The audio is presented in Dolby Digital 5.1 and generally does ok. Most of the sound can be heard on the front three speakers through most of the film. Bass wasn't as strong as I thought it would be minus a few key sequences. Same goes for the surrounds.

The DVD fails in the extras department. The only extra is a trailer.

Overall, I can still recommend this DVD because it is such a fun film. However, it might be only worth a rental for most people. Fans will like the fact that the DVD retails for under $15.00. Party on dudes!
Please help support our site by buying this DVD title through this link. Thank you kindly.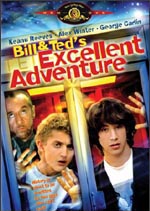 Purchase This DVD
Story / Content



Audio



Video



Extras