BILLY ELLIOT
Reviewed July 29th, 2001 by David Nusair
In recent years, a sub-genre in British cinema has popped up. With movies like The Full Monty and Brassed Off, filmmakers have used the infamous miner's strike of the mid-80s as the backdrop for genial human comedies (in Monty, it was a group of unemployed miners forced to strip for cash; with Brassed Off, it was a group of nearly unemployed miners who stage a concert). Now, with Billy Elliot, a young boy that wants nothing more than to dance is interconnected with a story about the strike has affected his own family (his father and brother worked in a mine).

Billy Elliot, a feel-good human drama, is the type of film that never gets made anymore. It's often downbeat and it feels quite realistic. A lot of the credit for this has to go to the (mostly) unknown cast. Julie Walters, who was nominated for an Oscar for Educating Rita in the early 80s, is the most prominent name in the film and she's also quite good as the world-weary (and slightly bitter) dance instructor. The actors playing Billy's dad and brother are also very good, and seem as if they're not actors, but rather real people in a documentary. And then, of course, there is Billy Elliot himself, Jamie Bell. Bell's got a tough job here; he's got to create a character that the audience likes and is willing to root for, while also maintaining a tough exterior that would come from a lower-class upbringing. He pulls it off excellently.

Audio: Billy Elliot is presented with a DD 5.1 soundtrack and it sounds quite good. The track comes alive during the many musical numbers - full of bass and depth - and the dialogue scenes are clear.

Video: This is generally a good transfer. Presented anamorphically at a ratio of 1.85:1, there are some film elements present during the first 30 minutes of the movie, but they eventually disappear. The image is otherwise crisp and vibrant, and considering how low the budget was, this is a nice transfer.

Extras: First, there is a 22 minute documentary. This is pretty much what you'd expect, offering tidbits about the production and interviews with the stars and creators. But the odd thing is, after it's over, there is what appears to be an alternate opening for the film. This is odd because no mention is made of it, and we're basically left to just assume it's an alternate opening. Weird. Next, there's a short set of production notes, which really doesn't tell you anything you didn't already learn about in the short documentary. That's followed up with a short bio/filmography on the main actors and director (which is perfunctory and that's it; check out the IMDb for more detailed info). Finally, there's a letterboxed (but non-anamorphic) trailer.

Conclusion: Billy Elliot is certainly a welcome remedy to all the mindless action flicks and gross-out comedies. Check it out.
Please help support our site by buying this DVD title through this link. Thank you kindly.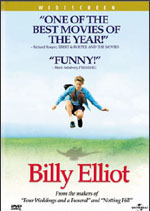 Purchase This DVD
Story / Content



Audio



Video



Extras