BIRTHDAY GIRL
Reviewed October 21st, 2002 by David Nusair
After the incredible success of two films featuring Nicole Kidman (Moulin Rouge and The Others), it seemed as though she could do no wrong. Well, with Birthday Girl, she proves thatís not exactly true.

Kidman stars as Nadia, a Russian mail-order bride ordered by a meek Englishman named John (Ben Chaplin). Johnís expecting a woman that speaks English fluently, but soon discovers that Nadia doesnít understand a word. Still, John wants to make it work and the two slowly begin to develop a relationship based mostly on sex. But their idyllic paradise is rudely interrupted by the arrival of Nadiaís two Russian friends (played by Vincent Cassel and Mathieu Kassovitz). Though their intentions initially seem friendly enough, Johnís soon forced to steal a hefty amount of money from the bank he works at in order to prevent them from harming Nadia. After doing so, he discovers that heís been the victim of a double-cross and Nadia was in on the whole thing all along. But, this being a silly romantic comedy, Nadia soon has a change of heart and winds up tossing aside her wicked ways in favor of a relationship with John.

Birthday Girl is pretty much the definition of mediocre. Itís not bad, really, but itís certainly not good either. It limps along until reaching its predictable conclusion, remaining watchable due mostly to the acting. Kidman, who spends a good portion of the first half silent, leaves no doubt that sheís a movie star Ė proving to be an invaluable presence even when she hasnít a word of dialogue. Ben Chaplin is good in the thankless straight-man role, but heís often overshadowed by Kassovitzís and Casselís flashy performances. Cassel, in particular, is a lot of fun as a headstrong thug. Heís a huge star in Europe for good reason; hopefully heíll find a better crossover vehicle than Birthday Girl.

All in all, Birthday Girl certainly couldíve been worse Ė it couldíve starred Eric Roberts and Cynthia Rothrock Ė but with these stars, it really shouldíve been a lot better.

Audio: Birthday Girl is presented with a DD 5.1 soundtrack, and itís pretty good. This isnít exactly a film thatíll ever be used as demo material, but the sound is always clear and crisp.

Video: This 2.35:1 anamorphic transfer surprisingly contains some instances of film-related artifacts (specks and the like). Other than those random occurrences, this is a fine transfer.

Extras: Not much. Thereís a video for ďSomethiní Stupid,Ē featuring Kidman and Robbie Williams, a six-minute featurette (fluffy and useless), and some trailers (Amelie, In the Bedroom, Amelie, Gangs of New York, and the Shipping News).

Conclusion: Birthday Girl doesnít even warrant a rental. Skip it.
Please help support our site by buying this DVD title through this link. Thank you kindly.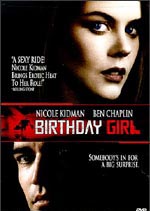 Purchase This DVD
Story / Content



Audio



Video



Extras