BLADE RUNNER: DIRECTORS CUT
Reviewed November 25th, 1999 by Staff
Blade Runner is a movie that is both science fiction and art cinema at the same time. Due to the budget usually associated with science fiction, this is a rarity. In fact, Ridley Scott's futuristic film noir was too much for the studio. As a result, a hacked up happy version was released with an uninspired narration by Harrison Ford. Blade Runner Director's Cut is Scott's original, superior vision.

Harrison Ford plays a special L.A. cop in 2019. His job is to hunt down and kill rogue replicants, which are very human-like androids. Ford plays an anti-hero who wants to leave this life behind, but cannot escape. Blade Runner has atmosphere to spare. In fact, the visuals outdo the story.

The Blade Runner DVD, one of the first released, contains a 2.35:1 anamorphic widescreen transfer on one side, and the Pan and Scan version on the other. The image is very good. Blade Runner is a dark film, but the DVD contains plenty of detail. There are a few scratches, but this is certainly the best available version of the film.

The sound mix is only Digital 2.0 stereo. The mix is a little dull. Dialogue is easily made out, for the most part. Vangelis' haunting score is the centerpiece of the audio mix.

There is nothing notable in the way of special features on the disc.
Please help support our site by buying this DVD title through this link. Thank you kindly.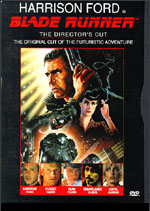 Purchase This DVD
Story / Content



Audio



Video



Extras